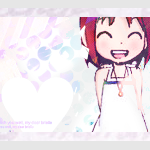 Proud Demyx/Kairi Shipper
Joined

Oct 12, 2007
Messages

4,281
Awards

1
Location
Disclaimer:
I don't own anything from Kingdom Hearts or The Legend of Zelda, obviously.
Beta Author:
Madammina!
Pairings:
Mild Sora/Princess Zelda, very mild
Setting:
End of "Ocarina of Time," post KH2
Summary:
This is just a drabble I felt like writing while I wait to be inspired for my longer, more serious Sora/Princess Zelda one-shot. Ganondorf discovers that it's a good idea to think about possible wild cards while formulating evil plans!
"Wrong Hero, Wrong Place, Perfect Timing"​
Ganondorf sat triumphantly at his chair, playing a haunting melody on his organ that was beckoning the young Hero of Time to come to him. After biding his time for seven long years, his patience was being rewarded at last: all the pieces had fallen neatly into place, and with Princess Zelda safely in his clutches, he now had two pieces of the Triforce again. He just needed that pesky kid with the Master Sword to climb the stairs of the tower and unwillingly deliver the last piece, the Triforce of Courage, to him. And then,
then
, Ganondorf would be able to completely seize power for himself and conquer the lands of Hyrule forever, with no one to challenge him!
Well, that had been the plan. But even the best plans have a way of coming undone at the last minute. So it was with Ganondorf.
CRASH!
Before Ganondorf or the captive princess could react properly, a flying…
something
…smashed through the stained glass ceiling and landed on the floor across from the giant organ. It shuddered and did not move again, but smoke began to pour out of it and fill the room. An enraged Ganondorf stood up to full height, swept his tattered red cloak back to look majestic and fearsome, and bellowed, "Who has DARED to enter and destroy the castle of the great Ganondorf!" Behind him, Princess Zelda trembled in fear and awe inside her crystal prison.
Really
, she thought to herself,
Who HAS dared to commit such a bold act?
In response, a door to the flying object suddenly opened with a hiss, and three creatures came out: a human boy, a large bird, and some type of dog. Anyone else would've thought it was strange to see two talking animals wearing clothes, but given the many strange creatures that could be found in Hyrule, and the spectacular entrance that these three had just pulled off, it just seemed to pale in comparison. "
Well?
" snarled Ganondorf, "Speak, foolish ones!"
"Um…I'm Sora," said the boy sheepishly, "My friends are Donald and Goofy. Sorry about that. I would've been able to land it properly if
somebody
hadn't tried to backseat-drive!"
"HEY!" squawked Donald, "You were doing it all wrong!"
"How was I supposed to fix that when you were pulling on the controls too?!"
"I told you to let go and let me steer!"
"You should've been the one to let go!"
"You!"
"You!"
"You!"
"Fellas," said Goofy in a warning voice, "Shouldn't we just apologize to Mr. Ganondorf here, and help him fix his roof?"
"Normally," said Ganondorf in a very angry voice, "I would employ you as my slaves for the rest of your miserable lives, but your presence is endangering my plans today. I demand that you leave this castle at once!"
"What plans?" asked Sora curiously. At that moment, he happened to look up and saw the beautiful, frightened princess trapped in the pink crystal above the organ. "Hey, who's that?"
The girl immediately began to beat against the walls of her prison. "Help me, noble heroes!" she cried, "I am Princess Zelda, and I must stop this man before he gets his hands on the rest of the Triforce and kills us all!"
Now technically, Sora, Donald, and Goofy had only just arrived in Hyrule and didn't know too much about who Zelda and Ganondorf were and who they should be helping. But it was pretty obvious that the latter person was up to no good, and these three had never needed much persuasion when it came to slaying villains. "Don't worry, Your Highness!" shouted Sora, as he whipped out his Keyblade, "We'll save you!"
Ganondorf threw back his head and laughed. "You will never rescue Princess Zelda, not unless you intend to kill me first!"
"Okay," said Sora, "We can handle that."
"You intend to fight the wielder of the Triforce of Power with that…that…
key?
" cried the wicked man, "And
defeat me?
"
"Well, we've done it before," Sora explained.
Ganondorf continued to laugh. "All your endeavors shall be in vain, but your deaths shall serve as a nice reminder to the Hero of Time about who he is dealing with!"
The trio chose to ignore him. "Ready, guys?" shouted Sora.
"Ready, Sora!" shouted Donald and Goofy.
"Let's get to work!"
About fifteen minutes later, a final stroke of the Keyblade ensured Ganondorf's immediate demise. "W…Wh…Why…?" he gasped, "How…how could…CURSE YOU, SORA! CURSE YOU!!!!" Then his body dissolved into darkness.
Sora pointed his Keyblade at Zelda's crystal and she was quickly freed. "That was unbelievable!" she cried, "You said your name was Sora?" He nodded, trying not to blush as he looked into her beautiful eyes and kind smile. "The kingdom of Hyrule owes you a great debt, Sora, and to your friends as well!"
"Awww, it was nothing," said Sora, "It's kind of our job to help other people out."
"Then you are a very noble young man! Perhaps we could try to fix your method of transport for you? It isn't much, but I cannot think of another way to repay you at the moment!"
"Nah, don't worry about the Gummi Ship, it's been through worse!" Behind him, Donald and Goofy chuckled at the memories of said crashes. "Hey, I've got an idea!" said Sora brightly, "Why don't you come for a ride with us? We'd like to see more of Hyrule and you'd be an excellent tour guide!" (Okay, so he was more interested in hanging around this gorgeous girl as much as he could, but she didn't have to know
that
yet!)
"Oh!" cried Princess Zelda, "Are you sure that it's safe?"
"Positive. Don't worry about Donald. He won't make us crash this time!"
"HEY!"
Zelda still looked uncertain. "Well, I still need to wait here for an important friend…"
"Ohhhh." Sora was always empathetic to people who needed to put the concerns of their close friends first, and he nodded. "It's cool. Maybe we'll see you around some time?"
"I would like that very much," said Zelda, and she blew the young hero a kiss. Now he was
really
blushing as he turned away from her with a shy, awkward wave and started to get back into the Gummi Ship, ignoring Donald and Goofy's snickers.
"Sora?" Zelda called out suddenly.
He stopped. "Yes, Your Highness?"
She smiled at him. "Maybe…maybe I'd like to see the Gummi Ship after all, as long as we return quickly…I did say that I owed you a debt, after all…"
Sora grinned back at her. "Hop in!"
***
About an hour later, Link and his fairy companion, Navi, quickly ascended the stairs of Ganondorf's tower. They were ready to face him; they had prepared for this battle in every way possible, and had just returned from Kakariko Village with four bottles of Blue Potion in case things got nasty. Putting aside any remaining anxiety, Link opened the door, prepared to face the king of evil, and…
…no one was in the throne room. Ganondorf was gone, Princess Zelda was gone…even a large portion of the roof was gone! "Princess Zelda?" Link called out, "Ganondorf?! Show yourself!" Nobody answered. "What has happened here?" he asked Navi, as he glanced at the pile of shattered glass on the floor. "Where are they?"
Navi fluttered around the room, but there was no sign to tell her what had taken place. "I don't know, Link," she said finally, "But it looks like our princess is in another castle!"
- THE END -​
A/N: Feedback is most appreciated, as always!
Last edited: