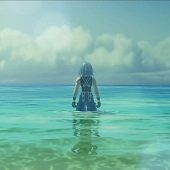 Be Wiser Than the Serpent
Joined

Nov 4, 2012
Messages

3,769
Awards

37
Olympus Coliseum had it's chance and frankly after KH3 story I'd say they overexhausted the world to death and ended perfectly in Kingdom Hearts III, alongside the Pirates of the Caribbean world. So sorry, I don't think we will be coming back to Olympus
Everyone can have their own opinion. I don't think Olympus is done at all even if it will probably sit out the next game or two.
I hope they stay down to 2 at most for PIXAR worlds per game. I'd pick among The Incredibles, Coco, Inside Out, or Toy Story again for KH4. The afterlife part of Coco might be a way to tie into KH3's ending actually.
If they have another opening like KH3's jumping right into Olympus for Sora to "re-gain his strength," I could see Sora somehow ending up in the world of the dead after working through wherever he first begins at based on the Secret Ending and trying to find his way out through his friends' memories of him the way Coco's memory of her father meant he could still exist in the afterlife.
As far as figuring out what the plot for KH4 might revolve around, I don't know much about
the Foretellers or where Nomura's going with that
to think of what movies would suit the storyline best anyway. I feel like Moana, WIR, and Zootopia are locks though. Vanellope's glitch and everyone in Sugar Rush's warped memories could be paralleled to Sora's consequences from the power of waking in some way maybe? Moana would be easy to shape for any storyline really.
Not sure what else--if we'll even get more than 7 worlds in KH4. :/