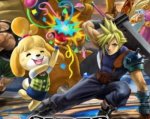 Joined

Feb 15, 2012
Messages

4,550
Awards

2
Location
Y'know kind of like what they did with Frozen and POTC

I think Zootopia would be a world they probably show off at an E3 event. E3 2022 I'm calling it!

Because get this, apparently Nick Wilde voice actor just announced that Disney is in the making of not just a Zootopia 2, but a Zootopia 3!

Zootopia is getting a Trilogy, for reasons. So yeah this world I think would be best shown off at a big E3 event.
Ohhh, thats why people were talking about Zootopia sequels. I predicted at least one would occur, but 2 more is awesome if they have a general plan (and then stop probably lol).
I really want it in KH. And if there is opportunity for it to be a world that happens more than once, I am all for that. I think we will needs some more worlds to be familiar to SDG in the next games.