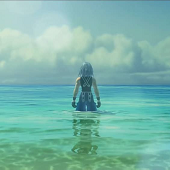 Be Wiser Than the Serpent
Joined

Nov 4, 2012
Messages

3,729
Awards

37
Nothing in Gallagher/Osment's work over the years is anywhere near as bad as the voice acting in BbS. Leonard Nimoy is the only one that keeps that game from sounding like a group of corpses.
Well, Nimoy and Lee certainly have a very well founded reason why they're no more involved and as for that Zane guy...designating someone who only participated in one single title of the series as a main voice actor is certainly somewhat stretching it.
But Lee had to be replaced quite a while before he passed.
And Zane
was
the main voice actor of Ansem, SoD, and that's not going to change. I'll be glad when the Xehanort saga is over so people will stop whining that other people don't think Epcar is as good as Zane. Thankfully the character's role is tiny outside of KH1 and CoM, so the change in voce actors has been easier to ignore.