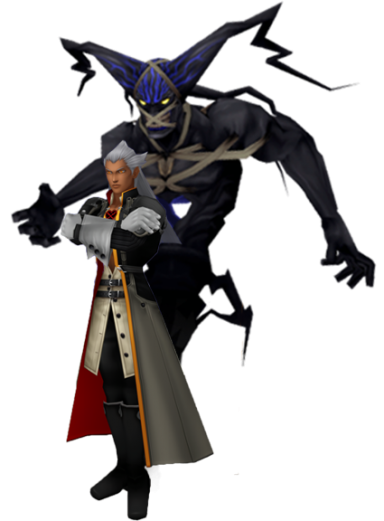 Joined

Mar 16, 2014
Messages

107
Age

23
The reason I'm against Time Travel is because some of my favorite Xehanort forms or favorite Villains (Ansem, SOD, and Xemnas) can't truly exist in the present. It's something that always bothered me, but basically they are already dead, but still in the present only for a short time. They then go back to their time and forget the things that have happened. I would be more content with them being in the present just like Xehanort as they are not destined to go back to the past and are not supposed to exist in the present. I don't know, it's kinda hard to explain. Anyways how I would've revived Xehanort forms. First off Master Xehanort would revive just as he does now, only that Terra's body also revives with Master Xehanort's heart still in-control. Since Terra's last body was what Xemnas was using, and the fact that Xemnas has a part of Master Xehanort's heart and/ or grew his own heart, he too has revived. Since Nobodies can grow a heart, they are similar to humans any how, and the only slight thing is Xemnas revives as a Human. Also I would've made Braig and Isa revive just like Lea, Ienzo, etc did only they look just like their nobody selves, and still keep their nobody names. Now let's go with Ansem, Seeker of Darkness. Ansem, SOD would revive after the KH Encoder exploded in KH 2 while Riku still looks mostly like Ansem (Riku-Ansem). Basically the KH Encoder doesn't destroy Ansem, rather Ansem's heart splits from Riku. Just like in KH: COM Ansem still has a body because he possesed a body before because he now has a physical form in the world. He has a body the same way he did in KH: COM. The heart fragment of Ansem grew when inside Riku just like Xemnas grew a heart. Both Ansem and Xemnas have their own personalities depite being similar to Xehanort. I love the idea that a part of Ansem and Xemans are not destined to become that old man again (Master Xehanort). They are their own entities, and I would also sneak another surprise. Afterthe defeat of Vanitas in KH: BBS, Vanitas's heart would've went to Riku's to heal just like Ventus's went to Sora's heart to heal as it sensed some potential in Riku. His heart would heal insider Riku's and in KH 1 the Darkness and the darkness of Ansem, SOD would've made it stronger. When the KH Encoder explodes, not only does Ansem SOD release, but so does the shadow of Vanitas! It would be a great thing to see him return like this as well. Now for Young Xehanort, I still believe he is relevant, but the other memebers that weren't seen would be brought back via Time Travel with the 13th Vessel to still have yet to join. Also I would've kept the KH BBS FM designs as they looked much better! And Billy Zane (and if we can't get him I would have Clancy Brown rather than Richard Epcar) voice Ansem in all appearances KH 2 onward. I was disappointed Ansem doesn't say "Come, Guardian!" in KH: 3D, rather he says "Protect Me!", but he should still say "Come, Guardian!" as that should not only be one of his signature quotes like Axel saying "Got it memorized" or Ansem saying "This world has been connected", but it should also be one of the commands for the Guardian, always. I don't know. That's just me. I hope you like!
Anyways to see the KH BBS FM models, check this video:
<a href="https://www.youtube.com/watch?v=klNkio3YzwI" target="_blank">[video=youtube;klNkio3YzwI]https://www.youtube.com/watch?v=klNkio3YzwI[/video]




Also what do you guys think of Time Travel? I personally hated it. What do you guys think of my ways of bringing back some of the SOD's? I think some of it actually might happen without Time Travel to be honest.
Last edited: