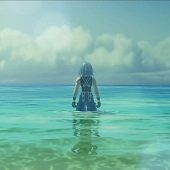 Be Wiser Than the Serpent
Joined

Nov 4, 2012
Messages

3,769
Awards

37
I think when KH4 will be released, people will look at KH3 like we are looking at KH2 right now. When KH2 got released, there were a lot of criticism if I remember correctly.
This is partly why I enjoyed KH3's release, because the fanbase always do this thing where the new game is the holy grail and the old is inferior. Well, to me, KH2 was inferior to 1 immediately and that opinion hasn't changed (I think 3 is superior to 2 as well, although I agree with the point that 2 has better pacing because it has a midpoint and doubtless it has better original worlds / content thanks in large part to the FF characters that are nonexistent in 3), but I had to go through years of it being treated like the best thing that ever graced the PS2. KH2 finally getting put under the microscope was refreshing.
I don't believe the casuals' reaction to 3 is more divisive than the reaction to 2 was back when it came out, having lived through both. I think social media's existence is all that's different; Twitter pushes hatred for
everything
, even what
is
popular. On Twitter, there is never such a thing as a "generally unanimous" opinion. No matter the person or subject, someone will inevitably treat it like it, or they, are the Devil incarnate and their histrionic commentary will be echoed 10x over with retweets. It makes minority opinions feel like they're very common. And there's both an up and a down side to that, as far is comes to how Square will respond to feedback going forward.