Hi guys
First of all, congratulations on the new design
Yesterday I wanted to play Kingdom Hearts 2 from where I left off, but instead of loading my save file I deleted it.
Luckily for me, I had another saving file where if I wanted to walk around Twilight Town with Roxas. That save
file is at the part where Ansem asks Roxas to come to the mansion, but I saved so many times that I don't remember
where I am, what am I supposed to do, and what will happen.
I'm planning to continue from where I left off. but I want to make sure of what I'm doing because I haven't load Roxas' save file for a while, this is a screenshot of where I am: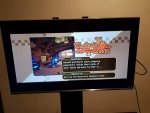 What do I do, where do I go from here, and what will happen next?
Last edited: