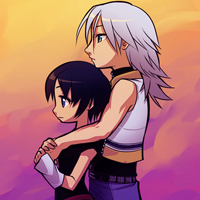 Joined

Jan 31, 2008
Messages

16,306
Awards

5
Age

36
Location
Website
Was Micky.I know he is central to the plot but did he really have to make so apprances,I'd honestly prefered it when he was a mystories figure,working in the background,only responding to Sora,Donald and Goofy by letter.What made it worse was that you played as him after Sora died, what was the point in this?,was Micky with sora all along?.I'd like your thoughts on this,please.
I disliked Mickey greatly. He is in fact one of the characters I hate the most in the series. Also, him popping up whenever Sora's almost dead to go 'lol I pwn you don't good bye' made me quirk a brow when I found out about it (I never got to use him XD).
He was crucial to the plot, however, what with his link to Riku, effectively making him the
only
clue Sora really had to getting to Riku.
And then the rat did all the stupidest things he could do about it and eventually led up to Xemnas being able to use it against Sora and lead to his mental breakdown =.=;;;
Mickey being bad at being a successful, somewhat perfect good guy however hardly ruined KH2 for me. At least he had plot value, unlike a certain someone that my dislike towards her earned her a section in my signature >.>
well disney is the ROOT OF ALL EVIL!! but mickey is a cool guy.
Correction -
Disney is the ROOT OF ALL
KINGDOM HEARTS
!!!