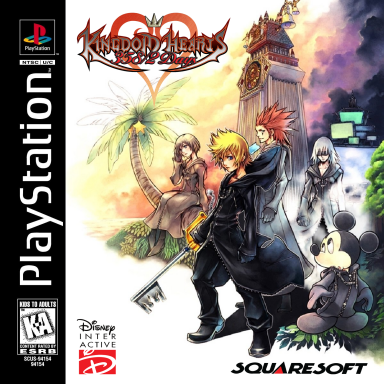 Joined

Jun 20, 2016
Messages

83
Awards

0
Age

23
So, with the latest update that shows us the ending of KHX, my interest in what "Unchained" is. A lot of people seem to be asking about it as well, so I figured I'd start a topic so we can discuss it (not sure if it belongs in the KHX board or KHUX or not, so please move it if you need to mods).
So first off, we have the title of the mobile browser game, "Unchained Chi". According to Nomura (if someone could find the quote, that would be great), the stories of both games are more or less the same, but there's differences because both games are meant to be, at least originally, played side-by-side. In this case, the title is meant to denote the difference between the two games aside from being a modified port of the browser game.
[video=youtube;CGnfsoj-yro?t=8m55s]https://youtu.be/CGnfsoj-yro?t=8m55s[/video]
(at 8:55)​
Then we have a reference to it in the story of both games, where Ephemer(a) sends the player a dream. According to Ava (using the official translation from KHUX) "He's fallen into an unchained state and now finds himself in a different realm." So first of all we know that "Unchained" is in fact a state and that it apparently sends people to a different realm.

[video=youtube;0GOCoDxvcFk]https://www.youtube.com/watch?v=0GOCoDxvcFk&index=43&list=PLPCJnwphQDQcJOkD9OsmxxMHX7YHE4WP2[/video]

​
So now we come to the ending of of KHX. When we encounter Dark Chirithy again, he says "Unlike you Spirits, we Nightmares are beings that show bad dreams. Because of that, we can sever bonds and break free." I have a feeling that this line of dialogue plays into what the state of unchained does and how it works. in effect, he's talking about severing the chains that link Chirithy to humans. Perhaps it's one possible way to reach this unknown realm.
Unanswered Questions:

Where do dreams come into this? Well, we know that Chirithy are a type of dream eater, but they seem to exist in conjunction with the Heartless in this world. According to Dream Drop Distance, the Heartless can't enter the realm of sleep, so that rules it out as a possibility for where the player is. However, it's entirely possible that's where Ephemer is (and it seems a lot of people on the site seem to agree with me on that front.)​

Is this where the Dandelions are sent off to? No. While Ava says that he's getting to the "truth", that doesn't necessarily mean the "outside world" is in fact the realm that you reach through the unchained state. Based on the stories that we hear from Kairi's grandmother, they probably do literally leave Daybreak Town for the outside world in order to spread enough light to keep certain parts of the world from disappearing.

What's the truth that Ephemer is getting close to? Truth be told (no pun intended), we don't know. It could possible it could be the identity of the traitor, or it could be something else that Ava is keeping close to her chest. She does mention to the player after her battle with them at the wastelands, that "There are secrets no one should ever know." It's possible Ephemer is the only one who has gotten close to or knows the secret truth she's hiding.

Why does Dark Chirithy want to sever their bond with the player? We know that if a player dies, the Chirithy dies too (or disappears). This could either that bond pulling the Chirithy into oblivion with the player, or the bond being severed, and the Chirithy can't survive without it. Either way, sending the Black Garments and fighting the player themselves runs the risk of killing the player, in which case they disappear either way. Why risk that? Is it to reach an unchained state? Is it even possible for him to do so?

What is the realm that you get to through an unchained state? Well it's possible that it's the realm of sleep, or it could be another realm altogether that could've been lost to the Keyblade war. We really don't have enough information to say.

Hopefully KHUX and Back Cover will solve these mysteries, but for now, what do you guys think?​