Joined

Nov 30, 2020
Messages

79
Awards

2
The search for the grassman begins! See a whale cause an earthquake!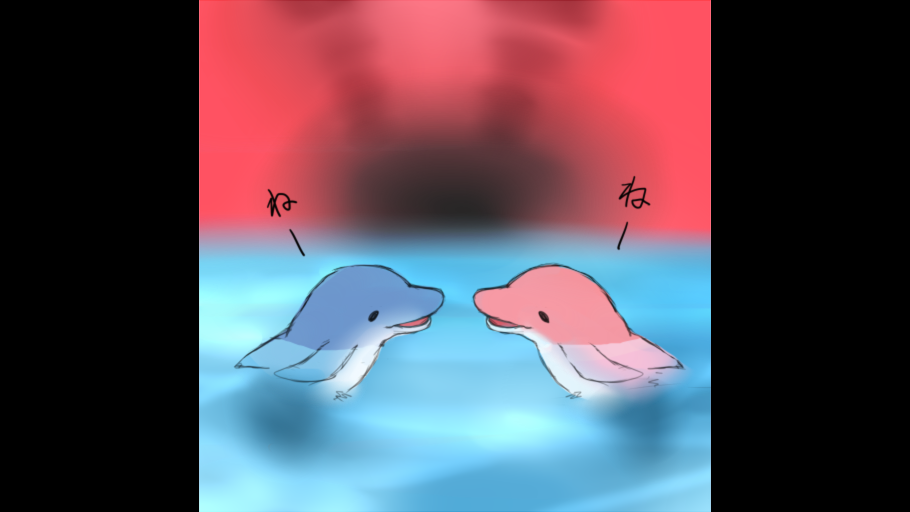 Part 14: Breath of Fire II Walkthrough—A Whale La-La-La... (Munmar)
THUMBNAIL ART BY: 「せいはち」 (The uncropped version is in his art gallery!)
せいはち's ART GALLERY:
https://www.pixiv.net/en/users/3498832
Special thanks for giving me permission to use it!
[Pixiv is basically the Japanese version of Deviant Art]
PLOT POINTS (Gone forever, if done before recruiting Beretta. She upgrades her wares for every 8 you get, up to a max of 24):
1. Breaking Nimufu's curse on Jean.
2. Recruiting Sesso.
3. Acquire the dragon powers from the old man behind the waterfall.
4. Recruiting three residents and expanding Township.
5. Defeating Jailer.
6. Finishing the cooking contest in SimaFort.
7. Defeating Kuwadora.
8. Finding out about the Gate incident at the Rangers' Guild.
9. Defeating Munmar.
ENEMY AI:
H.Crabs/Scissor Hermits:
65/128 defend
Otherwise, 33/256 Freeze/Iceblast, 223/256 attack
[This translates to about a 6.5% chance of Iceblast]
J.Fish/Sea Jellies:
Run away with probability 3/8 (turn 1-4) or 100% (turn 5-7)
Otherwise, 1/64 defend, 63/64 attack
[The probability of running away is intended to be 1/16 (turn 1), 1/8 (turn 2), 1/4 (turn 3), or 3/8 (turn 4+). But, the turn number was capped in the wrong direction before looking this value up. They're also intended to have a 65/256 chance of casting Cure 1 on turns where they're not running or defending. However, the upper byte of the Y register is cleared before this probability and spell can be read, so the probability is read as zero.]
Cuttlecbs/Hermit Squids:
1/64 defend
Otherwise, cast Def-Up/Protect with probability 100% (turn 1), 5/8 (turn 2), 1/4 (turn 3), or 0 (turn 4+)
[If you get the initiative, the first enemy action occurs on turn 2. If the intended target of Protect is dead, the squids will instead attack a random party member.]
Fastmen/Hustlers (50% crit rate; Lacks the AP to cast anything but Lightning):
1/64 defend
Otherwise, 33/256 to cast a spell, 223/256 attack
Spell list: Fireblast, Bolt X/Valhalla, Blizzard, S.Boom/Lightning
G.Shaker/Earth Shaker:
1/64 defend
Otherwise, cast 8.0/Quake with probability 17/256 (if over 50% HP), 33/256 (if over 25% and at most 50%), 65/256 (if over 12.5% and at most 25%), or 129/256 (if 12.5% HP or under)
Otherwise attack
[These always come alone. Quake will not OHKO anyone, and you'll kill it with Auto before a 2nd comes]
V.Heads/Shotgun Heads:
If any monster is under 75% HP, Cure 2 on whichever monster is missing the most HP. If tied, choose the last monster slot. Attack, if no AP.
Otherwise, 1/64 defend, 63/64 attack
MUNMAR AI:
Turn 4n+1: Horror (puts everyone to sleep)
All other turns: attack
THE ROUTE:

Campfire:
—CHANGE PARTY: Ryu/Sten/Nina/Tapeta
Overworld:
Hop to Whale Cape (pop into beach to reset encounters)
—x2 H.Crabs/Scissor Hermits: You outspeed, so use Whelp + Bomb/Simoon + Thunder/Jolt, so you don't face more than one Iceblast.
Whale Cape:
—CHANGE PARTY: Ryu/Rand/Lin/Sten (Scatter)
Equip the following:
--------------------------------
Ryu: Solblade, Iron Shield, Iron Armor, Circlet
Rand: Iron Knuckle, Escutcheon, Tanned Armor, Bronze Helm
Lin: Copper Baton, Buckler, Iron Plate, Glass Helm
Sten: Silver Knife, Iron Band, Breath Armor, Bronze Helm
--------------------------------
Whale Tunnel:
Auto everything, except for...
--------------------------------
Scissor Hermit & x2 Hermit Squids: Jolt + Simoon the Scissor Hermit while whacking the squids
X3 Land Lizards: Defensive Formation. Ryu Whelps one, Lin hits another, Sten Simoons the last one, and Rand Jolts.
X2 Shotgun Heads: Hit one once, so both Rejuvinate that one on the next round. Attack the OTHER one in 2nd round, so they Rejuvinate him in the 3rd round. Then, for that 3rd Round, use Jolt + Ryu & Lin attack while Sten either heals or Defends. The two Shotgun Heads will run out of AP, and one will be injured by Ryu & Rand. 4th Round, finish off the injured one with Lin & Flare. That will leave just one more!
X2 Shotgun Heads & Scissor Hermit: Jolt + Ryu & Lin melee on the Hermit. Then, do regular strat.
X2 Shotgun Heads & Land Lizard: Defensive Formation. Melee on Land Lizard while Rand Jolts. Then, do regular strat.
--------------------------------
1st Room: Use Smoke Bomb
3rd Room: Use Smoke Bomb
5th Room: Go left into, then out of, bottom room to reset encounters, Use Smoke Bomb, go into the left room, and snag Gold Armor (Ryu)
6th Room: Use Smoke Bomb while equipping Gold Armor when your lead character is perpendicular with the top of the lowest pillar
7th Room: Give Lin Clothing, if she's LVL 15.
---------------------------------------------------------
VS. Munmar (800 HP): Normal
Turn 1: Ryu attacks, while everyone else targets Ryu (Lin hits Munmar, if she outspeeds)
Turns 2-4: Ryu & Sten go to work, while Lin heals
Turn 5: Same as Turn 1
---------------------------------------------------------
Death warp
Re-adjust equipment
Smack the uvula!
Whale Beach:
Get Whale Bell from the old man in the beach cave.
TRANSLATION MISHAPS: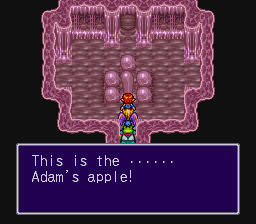 Someone didn't study anatomy xD !