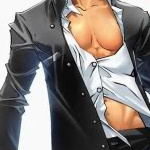 Joined

Mar 23, 2009
Messages

4,051
Age

31
Location
is there any written statement as such?
pertaining to what exactly, the way to dawn?
I'm just looking at it in a different way cus they kinda look like those regular keyblades a small bit. Take off all the machinery looking junk and try and simplify it round it out a bit yeah... but the way to dawn doesn't look like it. That's why I said a bad looking copy in the first place XP.
If it's that bad looking of a copy, then it isn't much of a copy is it? Might as well be it's own thing, which the TAV keyblades are.
I'd rather them not be connected in anyway honestly if it is I'll probably get annoyed.
Well good news there, the three keyblades of the current times in KH are not connected to the TAV keyblades. They were only used for the concept video of BBS to show connection between the current day wielders and TAV. When you think on it, it doesn't even make sense for the keyblades to be related as you're suggesting, putting KK and IKK aside for now. It was in Another Report, right? That said there were as many keyblades as qualified hearts. That indicates that the keyblades aren't likely to repeat themselves in model because they would be with different hearts, like how Riku's WtD was formed. The KK and IKK seem to be different as they don't come from an individual if you know what I mean. Mickey even went searching for the IKK so its existance as a keyblade was already determined. That being said I doubt the KK and IKK would be related to the keyblades used by TAV especially when looking at them as bad copies with all these additions. Those would be better seen as upgrades, which implies the KK went from being how it is to the mech variety not the other way around.