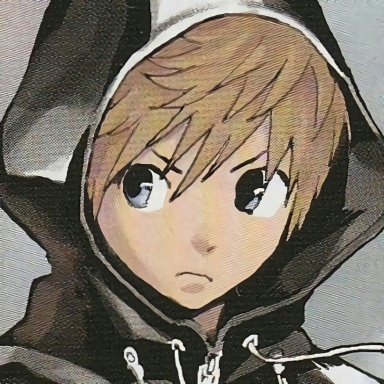 Joined

Dec 20, 2018
Messages

2,168
Awards

11
Age

33
I have more unpopular thoughts on how KH2 handled Roxas. Yeah, he's my favorite character in the series, but I still feel his introduction into the series was not perfect.

Surprisingly while replaying KH2 in FM, the whole Roxas vs Organization XIII thing feels very one sided in KH2. Taking 358/2 Days out of the equation, Roxas has no reason to hate the Organization in KH2. In fact we never see him with anyone besides Axel and Xemnas, and both are kind to him. We all know his history with Axel and the game doesn't tell us how they had a falling out. But with Xemnas we see him talking calmly with him on the shores just asking if Roxas remembers his true name. And then we get another flashback of Xemnas finding a zombie Roxas lost in Twlight Town, and giving him his name and promising him a purpose in life. Good ole poppa Xemnas. He was even kinda excited at the thought of Roxas's reawakening when Sora entered TWTNW. Such a villain.

From a outsider looking in with no context, Roxas is looking kinda ungrateful here. And because the game never shows anything Roxas did in the Organization we only have what other characters have to say on it. I'm ignoring Days for the following since it came out later, and thankfully filled in the blanks.

Demyx was quite happy to see Roxas through Sora, and even begged him to come back (likely because his work load doubled lol) and when he doesn't he gets serious with the "traitor" line. But up until that point it sounds like Roxas and Demyx had been on good terms.

Then you had Luxord who seemed hurt by Roxas's betrayal. Luxord is given no time at all in this game to feel like a character, but this one line made him feel like he and Roxas shared some kind of companionship. Was I suppose to feel good or bad about Luxord's line before death? Sora sure as heck didn't care about it, and neither did Roxas.

Even Saix complements Roxas through Sora before they fight, almost a Saix way of showing respect to his strength as a warrior. And while that's all you'll get from him, there is no hint of a feud between Roxas and Saix in this game. With Saix it was all business. He wanted Roxas eliminated because he was a traitor. It did not feel that personal, unlike when Axel died and he whined about it.

Xigbar trolled him like he trolled everything. Nothing new. And Xaldin had a Saix like stance on it. He wanted Roxas dead for being a traitor, but there didn't seem to be a feud between him and Roxas either.

I'll mention Axel for the sake of it. The only context we get from Roxas and Axel is Roxas wanted to know about the Keyblade and was leaving the Organization to find it. Why? Am I missing something? Did the game ever say that the Organization didn't want Roxas seeking answers? Why did he have to leave the group to find them? Why couldn't he use the group to find the answers, since COM already established they were researching Sora's memories via CO. Why is Roxas making his best friend suffer with his departure and why was he so cold to him when leaving, when you are trying to establish they are best friends? Yet if you even take KH2FM out of the equation, the two never have any good cutscenes together to show this bond and it's told not shown, making Axel's struggle feel hollow and one sided, I don't think Roxas ever truly cared for Axel in vanilla KH2. FM fixed that with one cutscene and for that I am grateful.

KH2 gives no real excuse as to why Roxas should hate Organization XIII and view them as enemies. If anything it looks like he unnecessarily made them his enemies when most of it sounded like he was on good terms with the group. Riku and Diz feel more like Roxas's enemies then the Organization, yet overcoming the evil cult trying to get their hearts back, as generic as they were in this game, was the big threat and not the grown man kidnapping kids and brainwashing them in virtual reality worlds and erasing their memories.

Again, I'm using this as a outsider looking in without context. I think KH2 handled Roxas's life in data Twilight Town with Hayner, Pence, and Olette beautifully, and really highlighted some of the best of Roxas, and why I love the character so much. But everything else about Roxas in KH2? It's passable now because of future games that filled in the blank spots, but without context, Roxas has no real reason to view the Organization as enemies. If anything Sora's influencing him to hate his old friends and co-workers.

I still enjoy KH2's story don't get me wrong, but it truly is a product of it's time looking back on how they handled some things.