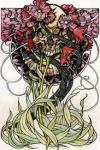 Joined

Jan 27, 2008
Messages

6,742
New thread, because I can't find the previous one.
The news:
Uncharted 2 is looking to get a fresh batch of content as one of its voice actors lets slip she's at work once more on the game.

Emily Rose – who plays investigator Elena Fisher in the series – tweeted earlier this week that she was going back to work on Uncharted. The news first led to speculation that the voice work was to be for Uncharted 3, although Sony has since shot down the rumours and confirmed that it's for some new downloadable content.

Uncharted 2 came out to critical acclaim late last year, and although there's been no news of a third game to date Nolan North – the voice of Nathan Drake – revealed that he's to lend his talents to a further outing for developer Naughty Dog's series.
http://ps3.ign.com/articles/111/1118702p1.html
I'm guessing this must be for the single player mode. Maybe a new chapter that will lead to Uncharted 3.
Yeah I know, being too hopeful.