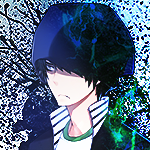 Joined

Jul 21, 2008
Messages

7,142
Awards

4
Age

30
"Komaeda!?" Try screamed as she was forced through a portal. This idiot, he really was about to sacrifice himself. No one told him to do that, why did he always have to be this way?... Wait, always? Try suddenly flinched and let out a desperate gasp. Komaeda's actions suddenly meant so much more. She frantically grasped at the air as she fell. "Wait, please stop. Don't do this! Don't leave me alone!" The portal closed, and she was somewhere else.
"...Kommy." She dropped to her knees as memories began flooding back to her, too many memories. They all coalesced into feelings that bombarded her senses. Happiness, fear, anger, regret. Ah, she was crying, she was crying and it wouldn't stop.
She took a look around herself, though her vision was blurred she was able to spot two people. Luxu and Kambria. She stood to her feet and took a step, only to stop as a sharp pain was felt in her chest. She hadn't been attacked, this pain was something else. In hindsight it was odd that while she understood the severity of the world's condition, she otherwise wasn't effected. Of course, all the trauma had been in memories she'd forgotten, and now it had all come back at once.
Darkness began to pour out of the crack in her helmet like steam escaping a faulty pipe. Try let out a fearful scream as the crack spread, until finally her helmet broke apart. The Darkness inside held captive by her keyblade armor burst forth, and flew into the sky. Her
face
was exposed, her braided white and black hair unraveled and fell. The left side of her face, corrupted by exposure to the Dark ached.
"Luxu!" She summoned her keyblade, unsure of the reasons for her current actions, she was behaving on pure instinct. "TRAITOR!" Her voice bellowed, echoed with her ability. She charged towards him with unnatural speed, she thrust her keyblade into the barrier before her. She continued slamming into it, echoing each strike. All the while her tears had not stopped.