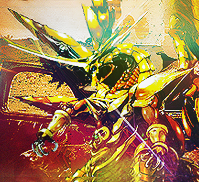 doWnloAd ProgoNOSKES 99% cOMplETeD
Joined

May 10, 2006
Messages

11,535
Awards

8
Location
Website
Reforge knocked at the door, giving a quick turn of his head both to the left and the right and a man opened it slowly. With Erebos circling around the block, before he emerged from the corner, gone. He looked frustrated, but it wasn't such a simple task to turn him in. He knew him and all that he'd gone through those few short years ago. Erebos tore down a wanted poster of Reforge, crumpling it up into a ball and casting it on fire before it dropped and rolled past his foot.





"Sorry to barge in on you like this."

Reforge's eyes caught an eyeful of the little girl, he didn't remember her. He hadn't been home in such a long time, it was hard to recant the years here as well as the years that were missing from his memory. He closed the door behind him and the three of them walked forward

"Oh?? So you and Kami had a daughter while I was gone?? She's cute!! What's your name darling?"



The man placed his daughter down and she spoke just once. "I'm Freya! Mmmmm!" sticking her tongue out at Ref.

Reforge took a step forward and she hid behind her father's leg and clutched with a tight squeeze. He watched as he put a soft palm on his daughter's head and stroked it. As Reforge dropped his hood, he sat down on the couch across from his friend. Without even looking at him, he was about to utter an incantation, graphing his lips but with a slight bead of sound.



"Reforge. Please, theres no need for you to do anything, anything. You're safe here, now just...relax. Please."

he said holding his daughter against his chest as she began to tire from dinner.

In between them the tension of the air was cut down a bit. Reforge did as he was asked for once, and his eyes narrowed around the cloak he'd taken from the sexy scarred man in the badlands. Looking at his hands, the room started to brighten some and a tower of light passed through the floor and rushed over Reforge. He was warmed by this shower of light, they were memories returning. Ones that followed the master's message, he could see them all, again and for the first time, even that man with the scars taking the stage again. The helmet stuck out, the name he had known, but they were numbered and thats the important detail.

"

Reyzil Azzir having a child?? I never thought I'd see the day. With a name like that, who are you...really?

" Reforge's eyes fell on Reyzil and on his younger daughter.



"Kambria and I have made our living here for a while now Ref, I'm just a well-informed former nomad. I'm sure you know this, and even if you don't Ref...the darkness came. It started with Destiny Islands, and it spiraled out of control after that."

he leaned forward and brought himself closer, Freya was sleeping in his arms.

"Reforge...I thought you were past this...the lightsides, your home breaking apart because you kids were curious, even losing your job to become a criminal. Did you learn nothing? Answer me Reforge."

He looked at Ref dauntingly, and his grey eyes were telling him a harsh truth.



"Ughhh...no. No I don't remember anything, the last thing I remember was a conversation I had with the master. I came here, because maybe you can tell me what I can do. What I should be doing??"

Reforge wiped his face, there was some dirt left from rolling around with Erebos. Without meaning to his friend did plan to turn him in. Some friend, but he remembered arguing about things that went on from others, throwing around names.

"Try. Do you know anyone by that name Reyzil??"

Reforge looked at him head on.



"You won't be able to do anything here Reforge, but I can point you in the right direction. Twilight Town. Theres someone else here as well in town, one of you. Take him with you before you depart and as for Try, thats the woman with the helmet. I last recall her appearance on Traverse Town and...if that light that just passed over you to go by...then Traverse Town is no longer in the realm of light."

he looked begrudgingly onward.

"Now go Ref. Kambria wouldn't want to see you in this kind of rut, move with purpose. She'll try to help you, so help her. Please."

He moved not even an inch and popped over, resting one hand over Ref's shoulder while the other was holding his daughter. That tap felt, the scene changed, and Ref was standing apart from another man. A portal of light forged and he pushed the two of them through it sending them to traverse across worlds.

"Nows not the time for you to be here...any of you."

he said, balancing his sleeping daughter in his arms and closing the portal as he turned.