trapped in revamp hell
Staff member
Joined

Nov 1, 2009
Messages

17,764
Awards

36
The KINGDOM HEARTS 3 x Tokyo Skytree collaboration event: Tower of Radiance and Shadow opened its doors yesterday. Running from January 8th ~ March 5th, the event features gorgeous displays, collections of memorabilia and new promotional material. Countless fans poured into the venue to experience the magic and wonder of Kingdom Hearts and reminisce on the series history before Kingdom Hearts 3 releases on January 25th, 2019. 
A special event screening also took place on the first day, with special guests Miyu Irino (voice of Sora/Vanitas) and actor Kanata Hongo in attendance. The two participated in a talk show and interview, during which they discussed their experience at the event and their hopes for Kingdom Hearts 3.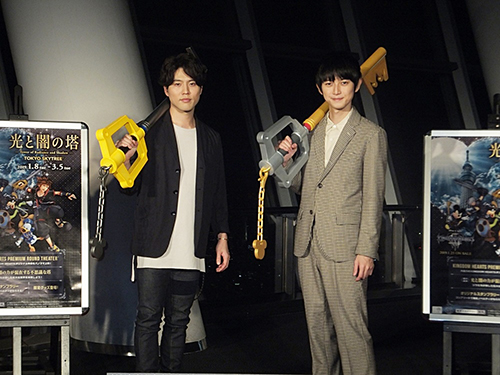 Read translations of the talk show, original source from Famitsu and PashPlus:
After being encouraged by the host, Irino took Sora's Keyblade while Hongo took Mickey's Keyblade. 
Irino said with a smile: "I don't get the opportunity to do this often in front of such a large crowd, so this is pretty embarrassing (laughs)"
Hongo, excitedly holding up the Keyblade: "As a fan of the game, it makes me genuinely happy to be able to wield the real thing!"

The KINGDOM HEARTS PREMIUM ROUND THEATER made its debut screening at the event. Running at roughly 7 minutes long, it's composed of memorable scenes throughout the series as well as the opening movie of Kingdom Hearts 3, with Utada Hikaru's signature theme songs as BGM. The footage is projected onto a giant screen (110 meters wide, 2 meters tall) spread across numerous windows panes.

After watching the theater, the two proclaimed "It's so nostalgic!" 
Irino was only in middle school when he recorded for the first Kingdom Hearts game. Upon hearing his middle school voice [during the theater], he remarked: "I never thought I would hear it here."

Irino: "You can't watch the entire video in one go due to the number of windows it uses, so by all means, please watch it as many times as you'd like. The music is also quite lovely."
Hongo: "It's nostalgic for me since I've been playing [Kingdom Hearts] since I was a child. It's a wonderful video that really conveys Sora's growth."

Irino: "If we look back on worlds and characters that've appeared throughout the series from a different angle, I think we can make all sorts of new discoveries. I was really surprised to see that the first script I signed more than 10 years ago still exists. Fans can check it out in the exhibit, which is something I would have never expected to happen (laughs)."

"I'd been walking alongside Sora for so long, it's hard to believe I'd also come so far in my career. I can see how much I've forgotten [in this long series] all at once."

Hongo: "While looking through the exhibits with Mr. Irino, I had an amazing time listening to his stories behind the scenes of the recording process. We took a picture together at the photo spot in the Keyblade Graveyard, which I will treasure dearly."

Nomura, who attended the event in secret, snapped a picture of this moment, goldpanner has translated his message:


"Happy new year! Sorry it's so late, I was busy with things over the holiday period. An event also started yesterday at Tokyo Sky Tree. I went in secret myself yesterday. Irino & Hongo seemed to be having fun. Check it out if you have a chance." -Nomura

The highlight of the event is the "Throne of the Tower Overlooking the Myriad of Worlds". This is a photo spot where you can sit on a Kingdom Hearts-themed throne and take pictures. Irino and Hongo both took pictures while posing as Sora.
Hongo: "I could feel the tension rising!"
Irino, whose picture was taken at the exact moment the elevator opened: "It was embarrassing having so many people see that (laughs)"

As they introduced the exclusive merchandise on sale at the event, the two of them repeatedly exclaimed "I want everything".
Irino: "Kingdom Hearts merchandise are all so stylish, I'd love to have more handkerchiefs."
Hongo: "I hope these cookies are like the ones you get as souvenirs in Disneyland."

But the one thing they absolutely had to have was the keychain of the Keyblade based on the Tokyo Skytree - Tower of Radiance and Shadow - that will be released on January 25th.
According to Mr. Irino, the Tower of Radiance and Shadow was designed by a member of the development team who has designed many Keyblades appearing in the game.

Irino and Hongo ended the interview and talk show with a special message for Kingdom Hearts fans:

Irino: "I'm going to try my best to convey the charm of Kingdom Hearts so that more and more people can experience this series and play Kingdom Hearts 3. I hope many people will enjoy the Kingdom Hearts Premium Round Theater, as its shown on these huge screens with amazing sound that can only be experienced at this event."

Hongo: "It was really fun to be able to participate in this event as a Kingdom Hearts fan. The history of the series up to this point is tightly condensed here, and my expectations for Kingdom Hearts 3 have risen tremendously. The event will be held until March 5th, but I think all Kingdom Hearts fans should stop by for a visit before KH3 releases."

Irino: "No matter the story, no matter the outcome, I hope you will all look forward to it."

Post-show Q&A:

-- With KINGDOM HEARTS III's release finally within reach, as the person who has played Sora for such a long time, what are your impressions of him in this title?

Irino: Sora has grown a lot both mentally and physically, so compared to the first title, there were many more scenes where I thought "Would such a character really say these things?" and "I should put more emotion into it", which were really refreshing. The trust he has in his relationship with Donald and Goofy has become even stronger, even when Sora has to play the role of the "straight man" with these two. Mr. Nomura was present when we had to record lines like that and he'd give me a lot of direction, such as by suggesting I "say it like this". There were quite a lot of re-recordings. 

-- Are there any scenes or lines that left an impression on you during the recording? What would you like fans to pay attention to?

Irino: It's been shown in the PV and CM, but it's the scene where Sora is screaming as he strikes the ground with both hands. Even I had quite a surprise when I read the script. When I looked back on the series, Sora has never expressed his emotions to such an extent before, so I challenged myself to play it with fresh feelings. Although the recording process went no differently than before, I felt what was happening as Sora and just let all of those emotions out.

--It certainly seems to be quite a shocking scene, doesn't it? Mr. Hongo, you've been a fan of Kingdom Hearts since the first title; how do you feel about the series from a player's standpoint?

Hongo: Although I'd been playing Square Enix's flagship work, the Final Fantasy series, I was really surprised by the idea of a collaboration between Square Enix and Disney. Unlike Final Fantasy, it features action elements with flashy moves that can be performed with simple operations. I was really drawn to the incredible story in this amazing world they've built.

--What are you expecting from Kingdom Hearts 3?

Hongo: The technology behind current-gen games has made considerable advances over the years, but I know Square Enix is always able to deliver their highest quality of work possible. I'm looking forward to a brand new Kingdom Hearts title developed with the latest technology, and seeing the long-awaited conclusion to the Dark Seeker Saga.
View images from the collaboration event, courtesy of GAME Watch: