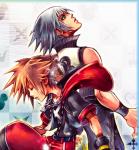 ~(x)~Sword Art Online~(x)~
Joined

Feb 14, 2009
Messages

3,365
Awards

0
Location
So from these two answers:
- And so, is there a possibility that the characters that appeared in that scene will be brought back in the future?

Nomura: Yeah. The data that Ansem hid inside Sora is a secret related to their resurrection. When Ansem became DiZ and worked from the shadows, he did research on the heart and emotion, but he hid the conclusion of his particular findings inside Sora. There were many who thought that what was hidden was Kingdom Hearts Coded, but that's not right. In the ending of Coded, Naminé's words that DiZ did something to Sora are pointing to the data that Ansem hid. We are planning to make clear the nature of that data in a future title.
– Now that Birth by Sleep is complete, we're interested in the future titles to come in the Kingdom Hearts series…

Nomura: Kingdom Hearts III can't be started if the goals for Final Fantasy Versus XIII are not concluded, however development of the next title(s) in the series has already begun. There's one I plan to release within the year. After that, there's another one I'm thinking I want to release from next year onwards, and I think there will be more than one main character again. By the way, the scene "Blank Points" in Birth by Sleep in which Sora ends up setting off on his journey is planned to connect to Kingdom Hearts III.
We have two games on the way before KHIII, one will come this year and the other one next year.
What you think these two titles will be about??
My opinion is that one game will cover the gap between BBS and KH1.
As for next year i take into consideration the first paragraph about DiZ.
I think that this game will be about the secret data...after all he wants to make things clear in a future title.
So this game starts where BBS secret ending ends and it leads to KH3+this title will be the one with more than one main characters...the characters will be Sora-Riku and Mickey makes sense(i think).
So what are your opinions about the 2 titles before KH3 and which time will cover?
I made a poll , so choose 2 games you think Nomura's team will make.

I think a game between BBS and KH1+a game after Coded.

Last edited: