Joined

Jan 22, 2010
Messages

2,138
Location
Here's the general assumption I get: Xehanort the Apprentice had a heart made up of Terra's, MX's and Eraqus's, and that heart became Ansem SOD. I'm going to argue against half of that belief.
THE TRUE NATURE OF ANSEM SOD

I'll start by discussing the "Hidden Truths" segment of blank points in BBS's secret ending. In this ending, Terra and MX say a number of things, including:
*Xehanort says he has other options besides Terra
*Terra says that he'll show MX the door (kick him out basically)
*Xehanort realizes Eraqus is in Terra's heart now
And of course we all remember what led up to this. Terra finally regained control of his body, but accidentally sealed his heart with MX's instead of releasing MX's, which resulted in an amnesiac man called Xehanort.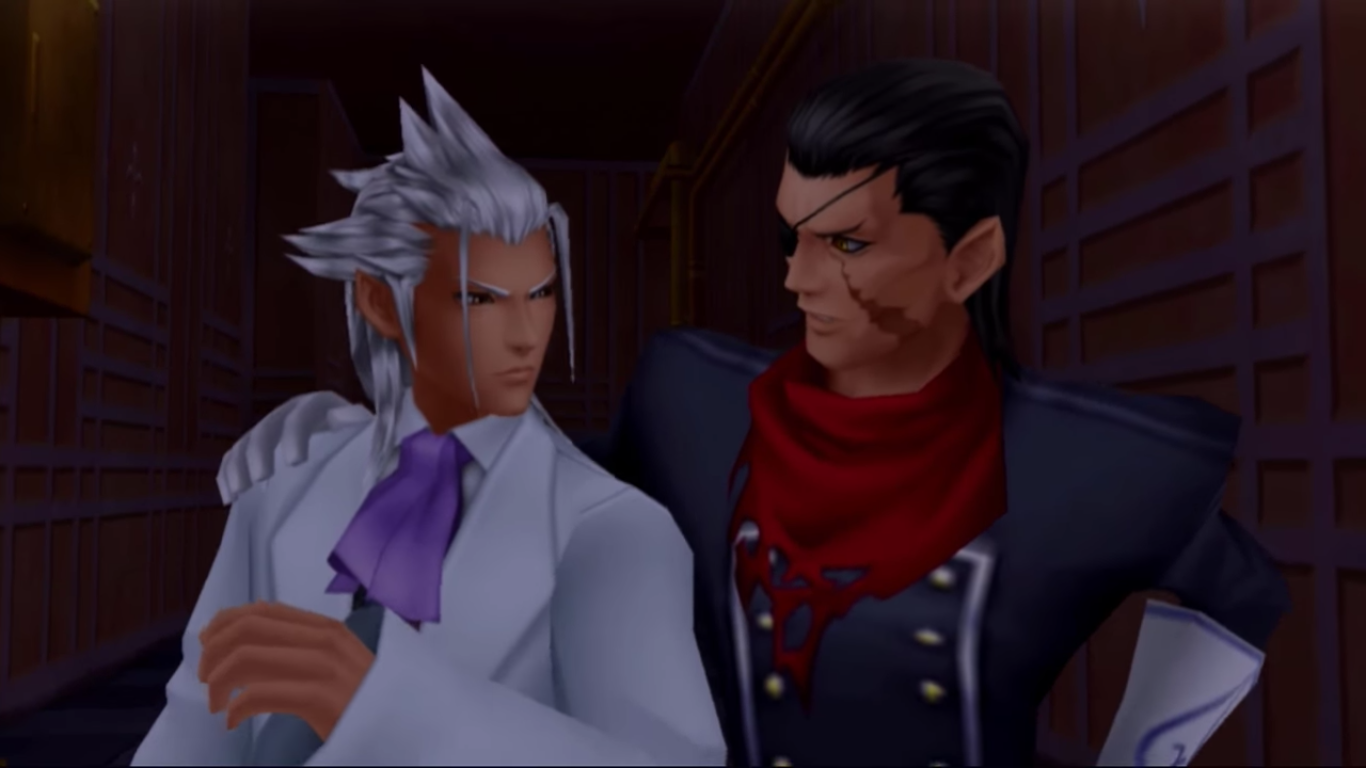 Now this Xehanort, Apprentice Xehanort if you will, began experimenting with darkness and created the Heartless. However, in both the Ansem Reports and Secret Ansem Reports, Xehanort finds a sealed door in the castle, and it is heavily hinted that Xehanort used the Keyblade to open it.
So he could use the Keyblade still. But there's one function of the Keyblade that Apprentice Xehanort may not have realized. It could turn one's heart into a Heartless and split hearts appart. We saw this happen to Sora in KH1. He used it to release Kairi's heart and ended up turning his own heart into a Heartless.
After months of fighting, Terra makes good on his promise to get rid of MX...in an interesting way. Xehanort the Apprentice, the new identity, loses control of his body, like in the final battle with Aqua. Terra is taking control of it yet again.
The reason why MX stabbing Terra's body the first time failed is because the hearts were separate still and he didn't foresee the consequences. So he wasn't able to release it then. But now their heart is ONE. So, Terra took control and stabbed his chest, which released two hearts:
*Xehanort's heart
*Terra and Eraqus's combined heart (since Eraqus didn't have a represented image of himself in "hidden truths", it can be inferred that his heart is now truly a part of Terra's)
Xehanort, still believing darkness was supreme, allowed himself to turn into a Heartless. Terra's heart found refuge in Riku since he didn't want to fall to darkness again. This is supported by the fact that Ansem SOD doesn't show a SINGLE trait of either Terra or Eraqus. Xemnas has Terra's desire to find Ven and refers to Aqua as his friend, and also has knowledge about the Room of Awakening's location which Eraqus had given Aqua.
Yet Ansem SOD...only shows traits of MX. He even says the same speech at the end of KH1 about darkness that MX says when controlling Terra's body. He wears the same clothes as MX even.
So what became of Xehanort's heart? Well, he donned a brown robe and continued to create Heartless. But he never said he actually had a humanoid form...not yet.
Recall that Ansem SOD was never shown UNTIL he had taken over Riku's body. This is why Ansem SOD doesn't look exactly the same as MX. Because it's his heart taking control of Riku's body. And there are two reasons he wanted Riku under his control:
*Riku had Terra's heart, and therefore his power, within him
*Riku was one of the other seeds Xehanort spoke of. Young MX and Riku have the same voice, which means at some point, MX influenced the boy so he could one day become a seed. Also, when Terra meets Riku, he sees Riku as young MX for a moment, but then Riku turns into his older teenage self.
That's why Riku was chosen as Ansem SOD's vessel. Not because a sliver of Terra in Ansem SOD wanted him. It's because MX had been connected to him all along.
Thank you for your time. I'll welcome any criticism and discussion.
NOTE: This theory is null and void because in the secret Ansem reports, Ansem confirms that Xehanort did NOT use a Keyblade to become a Heartless:
Worlds are no exception. If a world is a being, the heart it holds must be colossal... ...and the darkness at its core must be monstrous indeed. Did Xehanort pass through that door in an attempt to contact that dark realm? No, not only Xehanort. It appears my other five apprentices, believing it was for the sake of research, stared deep into the darkness and were pulled into it. Even, Ienzo, Braig, Dilan, and Aeleus... They have ceased to be human.
Last edited: