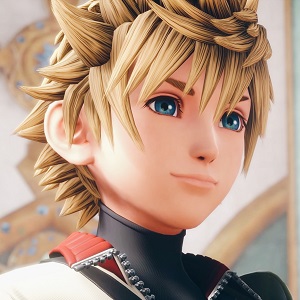 Joined

Oct 22, 2010
Messages

10,222
Location
I have made this very same post already yesterday in the X[chi]-Finale thread but considering it moves rather fast due to much general discussion about the latest Story update I'd thought it might be better to give this batch of thoughts and interpretations I made an own thread.
Mainly to see if people follow this train of thought and how plausible it might be...and of course to try and poke holes in it and see if I overlooked or missed something that may either further aid the direction this theory goes or gives counterpoints that may point to a different direction. ;D
---
I've re-examined some issues about what Gula says about what is written on the lost page, Luxu's words and some of the events of the former story updates.
In the current update, Gula starts with:
Gula said:

Unable to permit disharmony, you will be disappointed by fate, and lose sight of true strength... Misreading the truth, ...
Back in the July update there are these bits from Aced:
Aced said:

The only thing we can trust now is the unity of our Union. Someone may be a fellow Keyblade wielder, but we cannot divine whether their heart is dark or not. Warriors of absolute strength, the strength of a Union is not the amount of light it has collected. A strong Union is justice itself.
That is something that can only be proved through battle.

---


A final battle is no longer avoidable. Invi, Gula, Ava, and you, too, Ira. All desperate to collect more Lux than the other Unions.
The battle had already begun. It was you people who aggravated the situation.



---
In the end, it's a strong leader who controls the world. It's not Lux I'll gather more of than anyone—it's soldiers.
Strong organisation is imperative. When it comes to maintaining the balance, there need only be one leader.

I'll banish the four of you, and unify all the Unions under me.
The order is mixed up, but Aceds views (which may have changed over the course of X[chi]'s timeline itself because he was aggravated about the situation with the supposed traitor) are in accordance with what the passage of the lost page says.
The second statement of where he accuses the other Foretellers of aggravating the situation with the competitive Lux collection fits for "unable to permit disharmony", as the Foretellers not acting as a team caused just that and Aced was unable to permit this situation to persist. Disappointed that fate may play out exactly as told in the tome, Aced decided to follow a radical approach and disregard the teachings of the Master as well as the truths he had been trained to uphold (Invi accuses him of just that in the Back Cover-Trailer).
Aced does that by changing his mindset to believing that actual brute force, numbers and raw power (be it physical or magical) is the true strength that is needed to succeed.
"Warriors of absolute strength", "A strong Union is justice itself", "It's not Lux I'll gather more of than anyone - it's soldiers." "Strong organisation is imperative. When it comes to maintaining the balance, there need only be one leader." => These statements are all a revelation of Aced's new mindset, corresponding with the "lose sight of true strength"-part of the Lost Page.
And by insisting that there being more than one leader (five Foretellers) is the core of the Problem, he actually misreads the truth of the whole issue (a truth that Gula was apparently searching for but didn't manage to uncover until it was too late, causing the Leopardus Foreteller to lose his spirit and resignate and something that Ava was made privy to by Luxu, also too late to change anything).
Back to the current update, Gula then continues with:
Gula said:

It's why the traitor began trying to end the world.
This is tricky and may be a red herring, but seeing/believing that things couldn't be avoided anyways, Aced
did
decide to actually usher in the end of the world because in his (by now warped) views he saw it as unsalvageable.
In the current update Aced and Ira have this conversation while Player looks on:
Aced: I've been waiting for this moment...Ira.
Ira: You're...!
Aced: I'll rebuild this world, as its new king!
Aced admits freely that he has waited for the moment the world would end.
Ira's mouth actually gapes open and I assume the "You're..." is implying that the full sentence would be: "You're the traitor!?"
And then comes the kicker, Aced goes further to state that he will rebuild the world as its new leader/king (aka a fascist Dictatorship, a world based solely on brute strength and a single Leader everyone has to defer to.)
Creating/Rebuilding the world to something akin to your own desires, we already had this occurence
twice
in the current saga of Kingdom Hearts:
1. Birth by Sleep
Xehanort's report IX said:

If I become the first to open Kingdom Hearts' door, I can create a Next World in which light and darkness exist in perfect equilibrium.
2. Kingdom Hearts II
Xemnas said:

All that and more. I'm carrying on what you yourself began, and I'm
creating a brand new world, one heart at a time.
I'd say this is not a coincidence.
Now of course you may say wait a minute, if Aced is really the traitor, what is about Luxu and the Master of Masters? The black Keyblade that is now in possession of Xehanort.
Ava also accuses Luxu of misusing "the Master's intentions" for his own ends.
Well, let me say that, yes, Aced may indeed be a traitor to the other Foretellers and eventually come around to the viewpoint that the world must be ended and he must take everything on himself alone to fix afterwards because he views the other Foretellers as more hindering then helping, but it may be that Aced has a similar role to Maleficent in KH 1, actually serving the ends of Luxu without actually knowing about it.
The conversation between Ira and him goes on shortly where Ira rages at him (fitting to his namesake actually) "If only you hadn't broken the harmony!!!" Three exclamation marks, Ira is certainly totally furious and in his view, apparently Aced is the one who aggravated the situation by spreading even more discord and turning against the other unions (which may have started the actual fighting between "lesser" wielders we see in the July update) and if I had to pinpoint a single event where things went unsalvageably down between the Foretellers themselves I'd say it was when Aced first raised his Keyblade against a fellow Foreteller (which according to the Back Cover Trailer might have been Invi). As she appears at the final battle, Aced obviously didn't "banish" her as he claimed to want to do nor decisively incapacitated her, so word of Aced attacking her would certainly spread to the other Foretellers.
This in turn might have lead to Lord Gula directing his investigations more towards Aced in particular, maybe him even suspecting that he might be the traitor. Aced eventually gets wind of Gula spying/investigating on his exploits and ruthless actions throughout all of Daybreak Town and since he's a hothead and by now seeing the other Foretellers only as hindrances anyways, he decides to pay Gula a visit and teach him to not stick his nose into his business, leading to the confrontation between the Leopard and Bear shown in the Back Cover Trailer.
Gula obviously survives or else he wouldn't be able to participate in the final battle, but the whole time spent on investigating Aced may have been exactly the "looking out for the wrong thing"-statement Gula gives to Skuld and the Player.
Aced was deliberately set up as an antagonist towards the other Foretellers so they wouldn't get to the real truth in time, so while he strictly spoken IS
a
traitor, he is not the
definitive
traitor who set this all up, which may very well be Luxu himself if Ava's accusations hold any water.
---
So, to summarize, with the revelations given in the recent update and combining it with stuff seen in previous updates I theorize that Master Aced was placed into a similar situation as Maleficent in KH 1, working towards his own goals while not realizing that he was deliberately used by a third party to bring about the conflict and discord needed for the prophecy to come true.