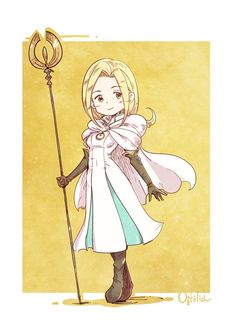 The Cleric of Flamesgrace
Joined

Oct 2, 2012
Messages

2,012
Awards

8
Age

30
Location
I can't let this go. It's the worst thing they could have done for this series. And the only person we can blame is Nomura since he handcrafts the story himself and writes the script. This is all on him and it's clear he doesn't see it as a problem. He doesn't know how to write female characters. His comments about people liking Aqua back in the BBS days makes more sense now. He didn't understand the appeal of her character and didn't think people would be drawn to her character type because he personally did not feel drawn to what he had written.

And then they just nerf her in the game. Sure, gameplay wise we get to play as her and she's badass, but storywise she is treated so poorly.

And I don't know how many times I can complain about Kairi without reiterating in shock that Nomura never intended to develop her in a meaningful manner and it is as clear as day now. She is just a device—a vehicle for Sora's affections and motivations in the latter half of the game. She amounts to nothing more but the love interest that sits there and dies to give the hero his driving force to fight. I'm so disappointed.

I don't think this is just an Asian culture thing. We have plenty of good female characters from Japanese media, and from shonem series at that. Obviously those tend to be more of an outlier than the norm, but we see these piss-poor depictions of women all across various cultures in media. Only in the last decade have we seen a major paradigm shift in how media approaches female character development now that people are more likely to call this stuff out on social media. But despite that, it is clear that this isn't a pervasive movement in media in Japan, although it is getting better like it is in the rest of the world.

The problem begins and ends with the writer behind the character. If Nomura had even given a fraction of the same treatment he gave other characters like Riku got during the entirety of the series, the female cast of this game would be so much better off. Instead he treats them like props.

I thought Kingdom Hearts was a little different. Of course the female characters were driven by their interactions with their male counterparts and women were outnumbered by a huge margin, but the game's depictions of Aqua and even Xion stood out as outliers among most shonen-inspired media. They were strong in their own ways. Even Namine felt intriguing despite her bare-bones appearances in the series. So to go from what we had in previous games to this is insane.

I thought this series was done with being a shonen-fest after KH2.

Depending on how I feel after I finish KH3, I'll decide how I want to engage with this franchise in the future. As it stands right now I'm just utterly disappointed on this aspect.

The easy fix for this problem is to hire a writer but that won't happen since Nomura has been unrestrained as the script writer since 2006.
I agree with you 100%. It's hard for me to say "I'll let this series go", but something has to be done.
I agree that we need a different writer for the series. Nomura himself should only be the overseer and the guy who makes the Big Ideas, not the guy in charge of character development at this point. The series was better written in the beginning, when he passed on his script to a writing team. Ever since he took over the job himself, it has gone more and more shonen, more and more complicated, and less favorable towards the female characters. Nomura is in the same boat as George Lucas at this point. They both have great ideas, but they need people around them to tell them no.