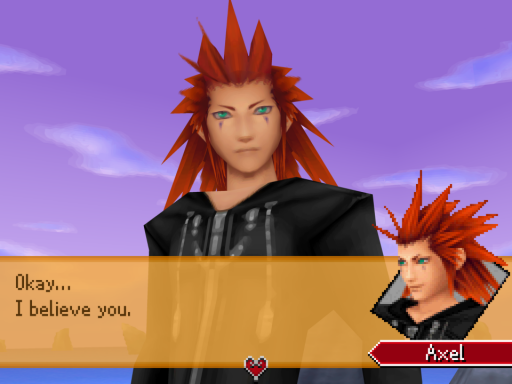 Joined

Jun 11, 2013
Messages

1,299
Awards

7
Location
Today on tumblr, I wrote up a quick "what if" situation that I think is 10 times better than what happened in game.

"

If Nomura absolutely

NEEDED

Kairi to be kidnapped, at least make it interesting??

What if instead of Xehanort just floating Kairi to her death, he has her in a contained area with him (ala Aqua creating a barrier to hold herself and Vanitas) and he forces Kairi to fight, knowing he'd win. Of course Kairi does lose. She wouldn't be able to win against freakin' Xehanort. It's a totally reasonable conclusion and I don't think anyone would blame her for that.

But you know what? Kairi is a princess of heart. Why not let her deal a substantial blow in exchange for her life, taking Xehanort down a few pegs for the rest of the game???

Why not give her a Sora sacrifice moment? Or a Riku behind the door moment? She'd turn to Sora with a smile like, "I've done what I can. You take care of the rest, Sora." and she disappears into crystal sparkles and Xehanort gets his 13th key for a price.

Sora would still be upset. Everyone would. But you go into the final battle knowing Kairi is the one that gave you an advantage. The crack in Xehanort's defenses that Sora needed to ultimately win.

Maybe the reason Xehanort was all weird and divided when you first get to Scala ad Caelum is because Kairi jacked him up real good and he got split into pieces? She would've basically given you this big opening and Sora + other characters wouldn't fail to mention it.

Anything is better than what Nomura wrote and I still don't know why people defend it."

One of the worst parts is we are supposed to care about Sora's death when about 30 minutes earlier I saw Sora and his friends come back from death.