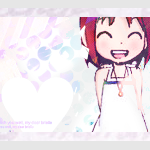 Proud Demyx/Kairi Shipper
Joined

Oct 12, 2007
Messages

4,281
Awards

1
Location
Disclaimer:
I don't own Kingdom Hearts: Birth by Sleep, or "The Three Little Pigs." And now that
that's
out of the way, I invite you to sit back, relax, and enjoy a KH take on this classic story...
(Also, there's some mild Ven/Snow White, Terra/Cinderella, and Aqua/Zack, but it's more of a reference than anything else.)
The Three Little Keyblade Wielders and the Big Bad Unversed
- A Birth by Sleep Fairytale -​
Once upon a time, there were three little Keyblade wielders, and their names were Ventus, Terra, and Aqua. They lived in a castle made of stone in the Land of Departure, with their beloved mentor, Master Eraqus, where they trained to be Keyblade Masters. But one day, Master Eraqus decided that it was time for his three pupils to gain some experience in the real world. So, he taught them how to fashion their own Keyblades and armor and sent them on a journey to various Disney worlds.
The first little Keyblade wielder, Ventus, built his Keyblade out of wood. Then he traveled to the Dwarf Woodlands to hunt Unversed as his master had instructed, but he soon got distracted by the beautiful meadow, where he found a princess picking wildflowers. He and the princess, Snow White, spent a happy afternoon frolicking together in the meadow, in an adorable romantic montage that would have put a vampire and his girlfriend to shame.
But their fun was cut short by the presence of evil, also known as the Big Bad Vanitas. In a menacing voice, he said, "Ventus, Ventus, let me fuse with you from within!"
"Not by the hair on my…wait…" Ven stopped, because he had just remembered that he had no hair on his chin.
"…what?" asked the Big Bad Vanitas.
"Nothing. It was stupid."
"Well, from you, I can believe that," said Vanitas, "So, come on. We can only forge the x-blade if you complete us."
"I will never allow that to happen, Vanitas!"
Oh, cool! We just rhymed!
thought Ven.
"Then I'll huff and I'll puff and I'll crush you with my legions of Unversed!" shouted the Big Bad Vanitas. He snapped his fingers, and monsters of all shapes and sizes surrounded Ven and the princess. She screamed and fled for the nearest castle, while Ven whipped out his wooden Keyblade. "Ven…that's a stick," said Vanitas.
"So what? I can still defeat all of you!" shouted Ven. And at first, he did seem to be holding back the Unversed. But then he tried to throw his Keyblade at the head of a flying monster, just out of his reach, and Vanitas caught it. With one quick snap, Ventus' Keyblade was broken in half.
Ven did the only sensible thing that he could think to do in such a situation. He started to cry and fled to the next world, where the second little Keyblade wielder was hard at work.
Now, the second little Keyblade wielder had abandoned his legendary weapon and instead built his powers out of darkness. But he wasn't fighting at the moment; like Ven, he had met a princess at the Castle of Dreams, and the two of them were dancing together at a royal ball. And like Ven, his fun was cut short when more trouble arrived…ironically, the trouble began when Ven himself arrived in the ballroom.
"Ven!" cried Terra, "What are you doing here? This is my date, by the way. Her name is Cinderella."
"Cool!" said Ventus, "Wait, what am I saying? Terra, I met the Big Bad Vanitas in Dwarf Woodlands!"
Terra stopped dancing with Cinderella and grabbed Ven's shoulders. "The boy in the mask? Did he follow you here?"
"Indeed he did, Terra," said another voice, one that belonged to someone even more formidable than Vanitas: his master, the Big Bad Xehanort! His pupil stood behind him, still holding the broken pieces of Ven's wooden Keyblade. "Now, Terra, Terra, let me fuse with your body from within!" shouted the Big Bad Xehanort.
"Not by the hair on my chinny-chin-chin!" shouted Terra, while he struck a bold, impressive pose.
"But Terra," Ven pointed out, "You don't have any hair on your chin!"
Terra paused. "Oh. Well, I
might
grow a beard someday! Did you ever think of that?"
"No," Ven admitted, "Wow, you're so smart, Terra!"
"Of course I am," said Terra.
"Enough of this nonsense!" shouted Xehanort, "Terra, if you refuse, I'll huff and I'll puff and I'll force my heart in!"
"And I will do the same to you, Ventus," said Vanitas with a very evil laugh.
Terra and Ven looked at each other. Then they looked at the Big Bad Wielders. Then they looked at each other again. Finally, Terra screamed, "RUN AWAY!" And that is just what they did. They ran away from those no-good body thieves and fled to the world of Olympus Coliseum, where they knew they would find the third little Keyblade wielder.
Now, unlike her friends, the third little Keyblade wielder had built her Keyblade out of metal, so that it would inflict great damage on the monsters that she faced. Also unlike her friends, Aqua had not spent her time getting romantically involved with a Disney character of the opposite sex. Instead, she had spent all day training in the arena with her good friend, Zack Fair…so she was spending her time getting romantically involved with a
Final Fantasy
character of the opposite sex. But at least she was getting to know him in a productive manner that still allowed her to complete her mission.
At the end of the day, Aqua and Zack entered one of Phil's many tournaments, defeated countless Unversed, and proudly accepted the title of Champions along with a shiny gold trophy. But before they could properly savor their victory, the first two little Keyblade wielders came running up to them. "Aqua!" cried Ven, "The Big Bad Vanitas is trying to fuse his body with mine!"
"And the Big Bad Xehanort is trying to do the same thing to me!" shouted Terra. And they began to cry…manly, silent tears, of course.
Aqua gasped. "Oh, are they? We'll see about that!" she declared, swiping at the air with her Keyblade in a vicious, yet graceful, manner.
Evil laughter rang through the Coliseum's vestibule, and then Xehanort and Vanitas appeared out of adjacent corridors of darkness. "There is nothing that you can do to stop us!" shouted the Big Bad Vanitas triumphantly, "We shall conquer your friends, forge the x-blade, and start a new Keyblade War! AH HAHAHAHHAHAHA!"
And while the three little Keyblade wielders became overwhelmed with fear that they might fail in their endeavors to protect themselves and their friendship, even they had to privately admit to themselves that Vanitas' evil laugh was simply
marvelous
.
"Now, little girl, little girl, let us fuse with your friends from within!" shouted the Big Bad Xehanort, using many wild hand gestures to emphasize his speech.
"No," replied Aqua. And before anyone could say "unbreakable connection" in a monotone voice, the third little Keyblade wielder summoned her Keyblade made out of metal, and attacked the Big Bad Vanitas AND the Big Bad Xehanort singlehandedly. With a combination of strikes, fire spells, and devastating magic with water, Aqua pummeled the villains as if they were a couple of beginner students in the art of Keyblade wielding. By the time she was done, they almost felt as if they'd been boiled in a pot over someone's fireplace!
"There," said the third little Keyblade wielder, while her enemies lay moaning on the ground, "Now, leave my friends alone!"
"Gladly!" groaned the Big Bad Xehanort.
And so, the three little Keyblade wielders returned to their beloved home in the Land of Departure, where they spent the remainder of their youth training until they became official Keyblade Masters. And they all lived happily ever after!
THE END​