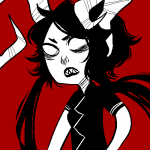 Joined

May 17, 2007
Messages

6,355
Awards

0
Age

26
Location
A Yugioh RP!
NO WAIT
What I'm presenting here is something new, a fantasy-adventure roleplay that is simply Yugioh-based. Something unique, and designed to attract all kinds of roleplayers, including those that don't even know about Yugioh so much. How will this all play out though, and what sort of story do I plan to present, to make this all work? See how it all unravels below.
Original concept here
.
-----------------
The Terminal
-----------------​
The world of Terminal. A paradise world, with green forests, sprawling plains, blue oceans and skies, jagged mountains and snowy ice caps. A perfect little life-sustaining planet, with many kinds of creatures and monsters living on it. The life of Terminal consisted of a number of tribes, intelligent enough to organize themselves and set themselves aside as their own people. The first to do this, as the smallest on most elite group, were the
X-Sabers
, ten legendary swordsman with their honor, pride, and an assortment of hidden technology on their side. They are led and trained by their Commander,
Gottoms
, and are not often challenged due to their strength.
The only other tribe that can equal the X-Sabers' abilities happen to be the highest in number and manpower. Those who isolate themselves to the north, the Warriors and Spellcasters of the
Ice Barrier
, hone impressively large armies, masterful in stealth, strength, and magic, as well as cunning generals;
Guntala
,
Grunard
, and
Raiho
. Leadership, and the following of their gods is what guides them. The people of the Ice Barrier keeping to themselves is not only because of spite for ever-changing, natural world, but because there people have had a responsibility since the beginning of time to guard the sacred Ice Dragons,
Brionac
,
Gungnir
, and
Trishula
. Their deities are said to have enough power to ravage the world, and even destroy it.
In the middle ground, between the greener parts of the continents and colder mountains, are the
Mist Valley
tribe. Those who banded together to create this culture are powerful bird-human hybrids with control over the sky. They all share features like wings and sharp talons, some more animal than human, and just as savage. Having instincts of hawks and eagles allow the Mist Valley tribe to comfortably be at home on the walls of cliffs as well as take shelter there from the harsh conditions they live with.
The more barbaric of the tribes, though by no means hindered, are the
Flamvells
. They live in the hottest areas of Terminal, mostly underground where the earth is warmed by magma and volcanoes form. Physically, they can be lacking, but easily overwhelm others in numbers due to their ability to reform from flames and
rekindle
what was put out previously. It is said that far into the crevices they dig, near the core of the planet, they have an
ancient god
that sleeps, holding an explosive power for its descended kind. If it exists at all however, it sleeps.
Other, less dominant tribes include the
Naturias
; nature spirits of the planets that reside in mystical forests scattered over Terminal. Most of them consist simply of
living rocks
and
anthropomorphic plants
, and use the life-giving force of the planet to stop any destructive forces from harming the environment. Deep under the surface of Terminal, also roam the
Jurracs
, dinosaurs evolved to survive frigid temperatures of the ice age, and fight extinction. Finally,
Fabled
, wicked demons harnessing powers of light, gods sealed away at the core of the planet, never meant to see the light of day.
For the most part, things were peaceful, and the cultures of Terminal blend well. There is never even a worry of danger, that is, until a meteor crashed on the planet's surface. The sizable rock traveled far, light years away, from the Worm Nebula. A group of organisms, aptly named the
Worms
, were carried on it, and spread rapidly from the landing sight. The environment was twisted and any life in the wake of the Worm foot soldiers, the
Apocalypse
, were mutilated if not destroyed. In defense, the three tribes of X-Sabers, the Mist Valley, and Flamvells came together and devised a plan. Thanks to the technology held by the former, along with the keen scouting abilities of the Mist Valley Soldiers, an army of Machines, the
Allies of Justice
, were formed, specifically to fight off the invasion of Worms.
And so the war waged on, both sides suffering from causalities but the mechanical army of the Allies provided a strong defense as the worms recruited more and more of their kind from a
mysterious source
. To push back the invading forces further, the Allies worked fervently on a new, elemental power source, the
Genex
. Those of the Ice Barrier, however, stood idly by, keeping watch over their gods in hope that they were not disturbed by the ensuing conflict. Fighting ravaged the landscape, invoking the wrath of the Naturias, who joined the Allies. It did not look good for the natives of the planet, but ultimately it did not matter.
It did not matter because in actuality, there was no Terminal. No truly existing one anyway. Terminal was but a computer-generated world, created to be compatible with players of the popular Duel Monsters trading card game. A virtual reality game, played through devices called
Duel Terminals
, designed by
Kaiba Corporation
. The Worms were nothing but a virus mysteriously implanted in the hardware, and the Allies of Justice were a special firewall. Fabled and Jurracs were programs stored away in the, meant to be deleted but left in the programming. Trishula, the God-Dragon, was a special failsafe device. This was not, however, known to a group of players testing the Duel Terminals for the first time, before they were released to the public. They would test out the game for any bugs, not knowing that they would find a few Worms instead.
-----------------
The plot of the role players picks up with the war escalating in Terminal. Duel Monsters is an extremely popular game, in canon with the anime, and the characters being played as in question have a love of the card game. They were chosen to participate in this test run, or infiltrated the game by other means. Each player is equipped with only their decks, however, upon entering the game, they found themselves taking the form of a key card of their deck- a card that personifies them, or is close to their heart. Going in line with the true card game, cards from the deck can be accessed during the player's time in Terminal, such as using Equip Spell cards as actual weapons, or spring a physical Trap. No actual dueling takes place though.
This, of course, is what allows those who don't know about the game to partake in this roleplay. You can just look up some cards that you like, throw them together in a deck, and have fun with it. I will also be looking for some role players with more experience to play the parts of Generals or Commanders of the Terminal tribes. Links will be provided where appropriate to fill in roleplayers with information, such as in the plot summary.
If the Kaiba Corp bit didn't clue you in, this takes place in the anime canon. At what point is unsure, though I would say during the 5D's era, or around it.
-----------------
Please Enter Template:
Name:
Age:
Gender:
Physical Appearance:
(Can be brief, due to the role play not relying so much on this.)
Personality:
(If it isn't asking too much, think out of the emo loner box.)
Biography:
(What the game has affected, why you are here, or how you're entering Terminal. Have fun with this, don't feel like you have to stick to anything.)
Card Form:
(What card it is, how it transcribes to the person themselves, etc. It is preferred this is a human-like card, as it would be odd to have someone taking the form of a Dragon or Beast thing.)
Deck:
(From 1-40, make sure you have your equipment, though this make sure you don't go over the real-life limit. This should include what you take the form of. Cards, unless otherwise made possible, cannot be obtained within Terminal, so you're stuck with what you have here. Be prepared!)
Extra Info:
(Whatever you think would be handy to know.)
In the case that there are too few people, you will be allowed at least two characters to play as. In that case, role players, will be using characters from the plot itself, and won't have the same lengthy template. Don't jump at this yet, however. Also, keep in mind that monsters included in the Duel Terminal don't actually exist outside of the Terminal, so don't have your OC be one of those characters due to illogic.
-----------------
The Manual:
1.
KHI Rules
2.
Literacy. Please know proper sentence/paragraph structure and how to grammar.
3.
Activity. Be as active as possible, however don't go out of your way to post every hour just to do more. Make sure to give others a chance, but don't go a week being inactive. In that case, your character may be killed off or taken control of by someone else.
4.
Power play. If all things go as planned, there's going to be a lot of wide-scale fighting, and dealing with NPC-like characters. I don't see this not happening. Just be responsible with non-Player characters and follow any preconceived personalities and such.
5.
More rules will be added when appropriate.
Controls:
Decks:
Decks are stored in a special holder attached to the wrist. It is compact and easily concealed for safety of the cards. Cards can be selected from the deck and summoned/activated. How certain effects are applied are completely up to the user, and can simply be based on the picture on the card and not just the actual effect.
Banned/Limited Card:
If it's overpowered in real life, then it can level cities if used in virtual reality too. Decks entered must go by the irl
"Ban List"
. Forbidden = Can't use. Limited = Only one. Semi-limited = Only two. Everything else can be used at three.
Life Points:
Each player begins with 8000 Life Points as they enter the game. They can take damage as they would within the card game: Opponent's ATK minus your ATK equals damage. Damage can also be dealt through effects and the amount will be described when used, or through a link to the card in question. When a player loses al life points, they will be ejected from the Duel Terminal, or be forced to start back at another location.
Monsters:
Since you are your own monster, you may think it's pointless to actually bring forth any monsters from your deck, but not entirely. Monsters summoned can be used to defend yourself or assist in the war. To coincide with the rules of the card game, summoning is limited to every few hours (once per turn) unless there is some other effect (special summoning). Monsters, either your own or ones in the Terminal, can be tributed to summon higher-leveled monsters. Essentially, it is preferred to just generally stay away from more difficult-to-summon monsters. For the sake of non-godmodding and staying in-canon, cards used by the characters such as Blue-Eyes White Dragon or Dark Magician are
not
allowed.
Spells and Traps:
Spells can be used in a pretty basic manner. Normal Spells can be used whenever, though may be harder to use in tight spots. Quick-Play can be used, well, quickly, and sprung like Traps. Equips are used to power up or enhance monsters, where Continuous may have lasting effects. Field and Ritual Spells will
not
be used for this role play outside of plot-induced events. Rituals are too messy for the moment and you are always surrounded by a field card. Traps can be used instantly, depending on how you have it function, though they have the bonus effect of being set down ahead of time. So, instead of whipping it out right away, you can save it for later without having to call it out. For the sake of non-godmodding, don't go spamming certain Spells just 'cause. Make sure that if any irl card has some cost, such as discarding or destorying or tributing something, to parallel that within in Terminal.
Thanks for reading. I'm hoping a lot of people will give this a chance and treat it as something new and fresh.
I am also intorducing the ability to take control of the "NPC" or pre-existing characters. This is to move things along more smoothly when it comes to the large cast of supporting characters. You can choose a fair amount, considering how many people have joined, and you can choose a few from any of the following. It would be prefered that you choosem ostly from one tribe. You can find members of the tribes near the bottom of the page, in the large blue box.
Mist Valley
(Only those with "Mist Valley" in their name)
Ice Barrier
(Only those with "Ice Barrier in their name)
Flamvell
(Not including "Neo Flamvells" or at least for now)
X-Saber
(Does NOT include "XX" Sabers)
More will follow with the advancement of the sotry. Make sure not to take any anyone else is using!
-----------------
Currently Active Users:
Izayoi [Adrian Malfalza] has entered the room
InnerPeace [Nigel Applecobb] has entered the room
CD-Man2021 [Casper Donn] has entered the room
•DaNDYLioN• [Kade "Toolbox" Margo] has entered the room
NPC's Present:
[Izayoi]
General Guntala of the Ice Barrier
General Grunard of the Ice Barrier
General Raiho of the Ice Barrier
Mist Valley Watcher
[Dandylion]
Commander Gottoms, Swordmaster
X-Saber Airbellum
X-Saber Wayne
Mist Valley Falcon
Mist Valley Shaman
[InnerPeace]
Samurai of the Ice Barrier
Defender of the Ice Barrier
Last edited: