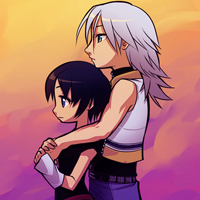 Joined

Jan 31, 2008
Messages

16,306
Awards

5
Age

36
Location
Website
[size=+3]~ The Sora/Kairi EXTREME Critic-Club ~[/size]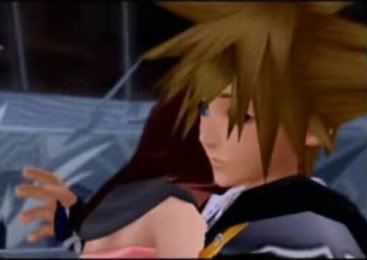 [size=+1]
Sora doesn't know what to make of this, either...
[/size]
​
Meet Sora and Kairi.
Sora is the regular boy who saves the universe once every couple of months using the magical weapon, the Keyblade.
Kairi is the girl with the Heart of Pure Light who washed ashore to Sora's world when the two were little.
The games somehow want to make it seem like the two are an 'item', a 'thing', a couple.
They also did quite a nice job to make sure any sort of implication in that direction would be quite forced, at times OOC, and when you least expect it - more or less contradictory to the very canon-plot.
Some might at times buy this.
Some might give them credit for trying.
Some might let them enjoy the benefit of the doubt, and pretend they didn't notice they never really put any effort into this.
And some might shake their heads and say that this "couple" is, by now, after six installments, three final mixes, and two remakes, some twisted, sick inside-joke the development teams don't want you catching up to.
It doesn't matter if you ship Sora/Kairi to the ends of the universe and back and take to heart other people disliking it.
It doesn't matter if you hate it with a burning passion and feel physical nausea at the mere mentioning of this ship.
If you, like us, feel that this 'couple', this
relationship
could've been done
better
- this is the place for you.
~Membership open, haters and lovers all welcome~
[size=+2]
-REASONS-
[/size]
Namine said bluntly Sora's feelings for Kairi were affected by those he had for Namine herself. (Smile)
It's incredibly forced into the storyline, without any good substance. (Theart)
Kind of hard to believe Kairi is Sora's childhood sweetheart because of Xion looking like her when Xion also looked like Ven. (Smile)
Kind of hard to find romance in Sora's sacrifice in KH1 when it was either that or the Keyhole to Darkness going high-wire. (Smile)
They don't even interact much, as far as I can see. (terraisawesome12)
If they tried to use a "romantic" Sora+Kairi reunion, it would just feel so detached from the rest of the game. They would have to change the theme of the whole series just to make it feel a little less forced. (terraisawesome12)
[size=+2]
-MEDIA-
[/size]
http://i207.photobucket.com/albums/bb142/DaySummerfield/1989-KingdomHeartsChainofMemoriesEE.png
[size=+2]
-ICONS-
[/size]
http://i207.photobucket.com/albums/bb142/DaySummerfield/13141387-1.gif
[size=+2]
-ALTERNATE PAIRINGS-
[/size]
Sora/Namine
Aqua/Sora
Riku/Kairi
Demyx/Kairi
[size=+2]
-THE OLD CLUB-
[/size]
http://forums.khinsider.com/fanclubs/149566-3-sokai-critics-club-3-needs-improvement.html
[size=+2]
-MEMBERS-
[/size]
[size=+1]
-FOUNDING MEMBER-
[/size]
Theart
[size=+1]
-MEMBERS-
[/size]
Smile|aswaxsora|Amata|Traskix|khlover7|Gildragon
Chakolat Strawberry|Reverie|1skyXonedestiny|destinyKH|Passion|SoCrazyOhYAH!
Nozomi Ai|rokudamia2|Oe98|vnnk|Rali|Sign
blackberi|Ethnic Woman|White-Light|Relix|8298906|WinterNobody
AxelYoYo|*~BlackCat~*|terraisawesome12|Shinra|CA59|Rixam
[size=+1]
-TENTATIVE MEMBERS-
[/size]
​