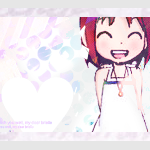 Proud Demyx/Kairi Shipper
Joined

Oct 12, 2007
Messages

4,281
Awards

1
Location
So I was replying to the thread about which trio is the best, and I got to the part about Sora, Donald, and Goofy. And as I began to remember how awesome they are, one question stood out in my mind: "Wait. Why don't these guys have a fanclub yet???"
So here it is.
The Sora/
Donald/
Goofy Fanclub!
Image from KH Wiki
Honorary Member: Tron!
Reasons:
1. Because they have the most development, and we saw that development from the moment it started. They started out traveling together because they needed each other to get what they each wanted, but then they started caring for each on their own.
2. They make us laugh AND cry.
3. Because Donald and Goofy are willing to help Sora find Riku, Kairi, and Namine (in CoM) not because they care about any of those people, but because Sora cares about them. And that's reason enough.
4. Same with Sora and finding King Mickey.
5. Even when they act like jerks to each other, they're always willing to take each other back as friends.
6. Because ANY trio that includes Goofy in it is automatically made of win!
7. They're so awesome that their names must be shouted at every possible moment in KH2! (Ok, THAT might not've been a good thing...but the fact that we still love them says A LOT)
8. "KH1 Hollow Bastion- Because every other trio tore your Heart to pieces in steps. They did it in one go, together all three." (Smile)
9. They're so awesome that they get to be unlockable characters in 358/2 Days Multiplayer Mode, even though it makes no sense because they're supposed to be asleep!
10. "Because any group consisting of a dog, a duck, and a human all of which can kick ass with rather impractical weaponry is cool in my books." (Watson)
Members:
- Organization_42 (Founder)
- Smile (Honorary First Member)
- namine_ftw
- Traskix
- Axel of Ice
- Watson
- asir1234567
- destinykh
- thylings
- brave little toaster
- RoseateDawn
- Mari
- Sharikka
- Aqua.
- aswaxsora
- WarpChaos
- ThePromise
- madammina
- redtutel
- White-Light
- Realm Walker
- Gildragon
Fanfiction:
To be added (Does it even exist? If not, it SHOULD!)
Fanart:
Sora, Not Roxas by ~Roxas4ever on deviantART
Fan-videos:
[video=youtube;HVF8aw3IAJs]http://www.youtube.com/watch?v=HVF8aw3IAJs&feature=fvst[/video]
Quotes:
"This boat runs on HAPPY FACES!" - Donald
"SORA! SORA! COME BACK SORA!" - Donald (Boy, does Disney know how to make a person cry...)
"That was the castle where Sora used the Keyblade to free Kairi's heart. Then he disappeared for a while, remember? I'll never forget how worried I was." - Goofy
Goofy: Don't worry! We might forget where we've been or what we saw, but we won't forget our friends.
Donald: What makes you so sure?
Goofy: Sora, when you turned into a Heartless, did you forget about us?
Sora: Of course not! I'd never forget you!
Goofy: Well, see, there ya go! No matter what happens, you won't forget your friends.
Sora: Yeah... You're right. Thanks, Goofy.
Sora: Donald, when I was turned into a heartless, who was it that hit me? (complete with snarky face)
Donald: THAT'S THE STUFF YOU SHOULD BE FORGETTING!
"Any friend of yours is a friend of ours! Let's go help Namine!" - Goofy
Donald: Oh brother, that's a bit much!
Goofy: It's ok. Sora always gets like this every time he's around a girl!
Sora: Aw cut it out! I thought you both lost your memories too!
Donald: Too bad! Good friends don't forget the good stuff!
Donald: Even if we get scared, or in trouble, or even if we get separated...
Goofy: ...or even if we sorta forget each other...
Sora: ...whatever happens, we're friends!
Donald: All for one and one for all!
Sora: What are you two gonna do?
Goofy: Gwarsh Sora, d'you have to ask?
Goofy: Hey Sora, how come your face is all red?
Sora: What?! It is not red!
Donald: Awww, I know who YOU'RE thinking about...
Brother FanClubs:
The Riku-Mickey BFFness Club!
The Sora FanClub!
The Bromance FanClub
KH1 Ansem, Seeker of Darkness Voice FanClub (being their antagonist and all)
​
Last edited: