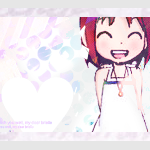 Proud Demyx/Kairi Shipper
Joined

Oct 12, 2007
Messages

4,281
Awards

1
Location
From the founder of the Terra/Cinderella Fanclub...
...and the Ven/Snow White Fanclub...
...I hereby present to you the next Keyblade/PoH FC...
The Sora/Alice Fanclub!
"And it just gets curiouser and curiouser..."
...okay, so this was really Smile's idea, but hey, I'm not against a cute pairing like this! :3
Reasons:
​
1.
Alice is the only Disney princess without a Prince Charming, so unlike the other Disney/KH pairings, we're not really messing with canon by pairing her with Sora.
2.
And does Alice even
need
a Prince Charming when she has Sora? Even before they had become friends, he was willing to defend her from the Queen of Hearts and hoped to find her again after learning that she'd gotten dragged off Wonderland by Heartless.
3.
They're both cheerful, curious kids who wanted to leave their peaceful (and somewhat dull) lives to pursue adventure!
4.
They make a good team when fighting evil, as seen in Chain of Memories. Sora used his Keyblade to defeat the Heartless attacking them, and Alice used her head to keep them out of danger from the Queen of Hearts.
5.
In Re:Coded, Alice invited Sora to tea. It's like a gender-role-reversal of Zack/Aqua!
Members:
Smile
Organization_42 (founder)
White-Light
Ethnic Woman
Rali
Fan Art:
Miscellaneous Fun Club Stuff:
*Sora and Alice in the keyblade graveyard*


Sora: Whoa! Look at all these dead keyblad-Alice what are you doing?!

*Alice with a bucket of paint and a paintbrush* We're painting the keyblades red! We're painting the keyblades red!

MX: No....! My precious keeeeeeeyyyybureiiido! Off with her heart!
So, come, sign up, and join us for a delightful cup of tea with these two friends/potential lovebirds!
Last edited: