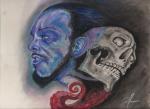 Joined

Dec 23, 2005
Messages

3,803
Awards

1
Age

34
Location
Website
well i guess you could say i have somewhat of a problem with revealing who i really am to people & on top of that i have a gift, as not only an artist but as a psychologist as well.

In order for one to truly understand this, one must first know a little bit about my past. I of course am the only child of upper middle class family. For 14+ years i've spent my life being the good child, and doing what everyone ask of me, however it wasn't until 15 that i was dealt a hand in which i have been scared from ever since. It was at this age i was diagnosed with Crohn's Disease; however it took about 4 months to the day for anyone to figure out exactly what was wrong with me. Can you imagine for 4 agonizing months suffering the most horrid pain internally that you have ever felt, no one knows what is happening to you, you miss school almost on a weekly basis, your grades begin to fall, and too make matters worse those who you've gone to your whole life up to this point have seemed to turn their backs on you because they know not what is happening, so they try to pretend it's not happening...or in other cases they try to believe it's not as bad as you say.
After this time i began to close myself off within, and let absolutely no one in on what i was going through, because i felt that this disease was both a curse & a punishment for not truly enjoying my life and appreciating it; and due to the fact that when i was at the lowest point in my life thus far, everyone i thought would be there for me seemed to move away.
So from there about 16 i continued being the same way, and because of dealing with such internal torment for so long it began to influence my attitude towards others, that is until i met a girl..i won't get into that story but lets just say i've been through basically all sides of a relationship w/ her within the 1st year alone (trust me on that) Of course this girl showed me that i'm not as horrible as i thought i was on the inside and showed me the light in heart which i originally thought was eclipsed in complete darkness....
Of course this brings up the second half of what i struggle with, through her showing me who i really am, awakened the psycho logic and understanding side of me as well-because i accidentally seemed to unleash her true self and show her that she is beautiful and intelligent, and not to be treated any lower than that. When i help those i don't just tell them things will be okay and send them on their way, I've realized that to truly help someone and to truly release their pain you must not sympathize but instead empathize, and put yourself in that place that they are even if you've never been there, but for some reason you reach deep into those parts of yourself that you promised you'd never return to and in doing so you help them, but you suffer at the same time.
My problem i help those by consuming their pain *emotionally* and take it all in myself, but i have to deal with that pain alone with no help from anyone...this gift this curse, to help people in return for suffering...sure i get thanks and such but that pain is still there lingering, and the problem is i don't know how much longer i can keep this up before that side of me i banished along time ago will resurface yet again and if that happens i jeopardize not only my own well being, but that of those i care for the most..especially that girl...

*by the way i've always been the kinda of person who thinks about others well-beings before my own, and i've actually come to realize that i'd willingly die for those i care for no question, and in knowing that it will probably be the death of me one day*

so i wanna know what should i do???