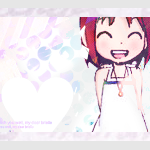 Proud Demyx/Kairi Shipper
Joined

Oct 12, 2007
Messages

4,281
Awards

1
Location
Welcome, one and all, to...
* The PIXAR Fanclub! *
The best animation company currently in business!
The Nostalgia Critic said:

"Did you ever see the movie, Monsters Inc? Of course you did! Pixar is practically your cinematic guardian now!"
Films:
- Toy Story 1
- A Bug's Life
- Toy Story 2
- Monster's Inc.
- Finding Nemo
- The Incredibles
- Cars
- Ratatouille
- WALL.E
- Up
- Toy Story 3
Reasons:
1. Every movie that they've made, with the exception of the
Toy Story
sequels, is an entirely original story. No remakes. No fairy tales. No adaptations. They made those stories from scratch.
2. The films are made for everyone to enjoy, and their team is not afraid to tackle serious themes.
3. They do not carry overt political messages, not even WALL.E. In spite of the aforementioned serious themes, every film ends on a happy note, and the message always has something to do with being a better person and living a more fulfilling life.
4. They have pushed the boundaries of animation with CGI technology.
5. They know how to make us cry AND laugh our heads off at the same time!
6. They work on each film for four years, which shows a dedication to quality on their part.
7. Because Dug loves you.
Founder:
Organization_42
Members:
1. VirgilTheart | 2. midget00999 | 3. Raz | 4. asir | 5. 8298906
6. Dawninmyheart | 7. Danica Syer | 8. Strawberry | 9. Gesso | 10. simple&cleanxiii
11. Kiwi + | 12. Number VIII | 13. rando | 14. Watson | 15. PowerOverNothing
16. Bebop Blues |
Tentative Members:
1. Roa
Videos:
Last edited: