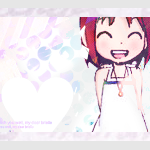 Proud Demyx/Kairi Shipper
Joined

Oct 12, 2007
Messages

4,281
Awards

1
Location
Oh come on, you had to know this would come from me eventually.
Pairings:
Kaimyx
and some very minor Selphie/Tidus
Setting: Between CoM and KH2
Summary: This came from a plot bunny that madammina gave me weeks ago, but it took me forever to figure how to write a story about a music contest
without
turning it into a semi-songfic. Basically, Demyx learns about a music competition on Destiny Islands, and asks Kairi to do a duet with him. There's just one little fact that he should've learned before signing them up...
"The Paopu Festival"​
St. Valentine's Day did not exist on Destiny Islands; instead they celebrated a holiday known as "The Paopu Festival". Every year, rather than give away red and pink hearts, lovers exchanged paopu fruits, and children would pass around yellow, star-shaped cards to their friends. It was one of the biggest events on the calendar, mainly because of the big festival held at the end of the day.
This year, Kairi wasn't sure if she wanted to go. Selphie was begging her to come, as she didn't want to attempt sharing a paopu with Tidus unless her friend was nearby. It might be a fun night, but it was harder for Kairi to enjoy herself properly when Sora and Riku were no longer around.
"I don't know how I'm going to do it!" wailed Selphie, as the two girls walked home from school one day.
"Relax," said Kairi, "Just act like you always do around Tidus."
"But what if he laughs and doesn't accept it?"
"Well, that's a risk you'll have to take, isn't it? Besides, what if he does accept it? You won't know until you've tried."
"Like I haven't heard
that
one a million times," grumbled Selphie.
"And if he laughs, just knock him over like you always do, and act like it's no big deal. That should shut him up! If it doesn't, call me, and
I'll
come knock him down too!"
Selphie smiled at Kairi. "Thanks Kai," she said, before biting her lip. "I just wish I knew for certain. I'd rather not waste time worrying."
"I hear you," said Kairi with a sigh.
"Still worried about Sora and Riku?"
"Yeah. How'd you know?"
"Please. We're
all
worried about them!" Then Selphie stopped and put a hand on Kairi's shoulder. "But it's going to be ok. They'll be back before you know it! And then they'll want to know everything that's been going on, so you'd better come to the festival with me, or we won't be able to tell them about it later!"
Kairi laughed. "All right, all right, I give in! I'll go with you!"
Selphie smirked. "I knew you'd see things my way. Hey, what's this?" They had reached the center of town, where a large bulletin board posted flyers about upcoming events. One looked like a sign-up sheet, and it was decorated with drawings of paopu fruit.
"It's some kind of music contest," said a young man, who was already looking at the board, "You can either perform as a single, or a duet. I'm not sure what the prize is though…do you know what day they're having this contest? It's saying something about a festival…"
"Yeah," said Kairi, "The Paopu Festival. This must be that annual music competition that they have."
"Are you performing?" asked Selphie.
"I was thinking about it," said the young man, as he ran a hand through his dirty-blond, messed up hair. He was wearing all black, including a long overcoat, and his eyes were a strange mix of blue and green. The girls didn't recognize him, but he seemed friendly enough as he smiled at them. "What about you guys? Are you signing up?"
Selphie shook her head. "Unfortunately, I don't have anyone to sing to."
"Yet," Kairi reminded her.
"Oh. What about you?" he asked Kairi.
"Same problem."
"It's a shame; you're a great singer, Kairi!" said Selphie.
The boy's ears perked up. "Really?"
"
No
," said Kairi, glaring at Selphie, "She's exaggerating again!"
"Oh, ok. Well…" He glanced at the board again for a moment, as though thinking hard about something, and then he turned back to the girls. "Listen, if you change your mind…I was thinking of entering, and I could always use a singer."
Kairi and Selphie' mouths dropped in perfect unison. "Did…did you just…" spluttered Selphie.
"Um, thanks a lot, but I don't know if that's a good idea," said Kairi.
"I'm sure you'd do great!" said the boy, "And who knows? With your help, it might increase our chances of winning the prize!" He offered her a hopeful smile.
Selphie looked from one person to the other and burst into giggles; Kairi's face turned bright red. "But I don't even know your name!"
"Oh, I'm sorry!" cried the boy, "It's Demyx! Wait a second…you never told me your name either!"
"Ooo, he's got you there, Kairi!" said Selphie, who was still shaking with silent laughter.
"Shut up!" Kairi snapped. "Well, there you go," she added, turning back to Demyx, "The name's Kairi."
"Cool name; I like it! So, does that mean you'll help me?"
"Do it Kairi! Do it!" chanted Selphie.
"Fine, I'll help you."
"Great!" Demyx smiled again, "Do you want to practice, next time I'm in town?"
"Um, sure."
"Ok then, it's a date! I'll see you later!"
"Bye…Demyx…" said Kairi, as he walked away. Selphie couldn't say anything; she was trying too hard not to fall over laughing. Finally, after he was out of sight, she couldn't hold it in anymore.
"
It's a date?
Wow, talk about no sense of boundaries!"
Kairi groaned. "What did I get myself into?!"
***
Demyx was pleased to discover that Selphie had been right all along- Kairi could really sing! He was certain that they would win the contest, but he wished he was more certain about what was going through her head. It seemed like eons since he'd lost his heart, and along with it, the ability to understand emotions. Kairi seemed like a nice girl, and it looked like she had fun practicing with him, but he couldn't help but notice the odd looks she would give him when she thought he wasn't looking. And he didn't like the way she'd raised her eyebrows at him when he showed her the song he had written…it was like she didn't know quite what to make of it.
I guess I should be used to that by now
, he thought sullenly. Only Roxas, Xion, and occasionally Xigbar would listen to him play his music and actually look like they were enjoying it. Everyone else constantly told him to shut up and save his energy for his missions.
Somehow, Kairi seemed to be in the middle. She had openly expressed how much she liked the song, and said that he was very talented. But she still looked like she felt awkward in his presence. Maybe it was him, not his music, that was the problem.
Finally, the day of the Paopu Festival arrived. Demyx went to his mirror, checked that his hair looked the way he wanted it to, and traveled to Kairi's home. She was already waiting for him at the door with a nervous expression on her face, but there was something about her that was different.
Wait a sec- is that makeup?
he wondered.
"You ready?" asked Kairi. He could feel her voice shaking.
"Yep! You?" he answered cheerfully. He couldn't feel nervous without a heart, so he would just be confident for both of them.
Kairi smiled back. "I think so. Let's go to the festival."
Demyx felt his confidence grow as each of the groups performed; his well-trained ear for music made him certain that he and Kairi were superior to the others. But as he listened to each act, he began to notice something else…
They were
all
love songs.
Even the soloists had a significant other. They would start their performances with, "I would like to dedicate this to…" and then the spotlight would land on the person that they pointed out. But the duets were even worse: they were all couples singing to each other.
Slowly, Demyx turned to Kairi. "Um, are these all supposed to be love songs?"
Kairi blinked. "Well, yeah. That's the whole point. It's the Paopu Festival; the most romantic couple wins the prize!"
Demyx began to feel nauseous- you didn't need a heart to get sick to your stomach! "What's the prize?"
Kairi was blushing again. "A candlelit dinner for two," she mumbled.
"Oh." He suddenly understood why her friend had started laughing when he asked her to do a
duet
with him!
"You didn't know that, did you?"
"No…I didn't see anything like that on the sign-up sheet!"
"It's a tradition;
everyone
knows what the Paopu Festival Music Contest is about!"
"Oh."
Kairi started to smile. "You just thought this was a regular music competition? You never really wanted to go out with me, did you?"
Demyx gulped. He was in for it now- he didn't want to hurt her feelings, but he hadn't meant to give her the wrong impression either! "Look," he said, "You seem like a really nice girl, and I've had a lot of fun practicing with you, but…"
He got interrupted as Kairi doubled over laughing. She tried to speak, but the words wouldn't come out, and all she ended up doing was laughing harder. Tears began to roll down her face, and soon she had to sit down. Demyx glared at her- so she was going to make fun of him, huh? Well, he wasn't going to sit around and listen to this. He turned around and started to walk away.
"Wait!" cried Kairi, "I'm sorry; I wasn't laughing at
you!
"
Demyx stopped walking, but he didn't turn his head in case she was lying.
"I guess I'm just really relieved and happy!" she admitted, "I thought you liked me, and I didn't know how to turn you down because you seemed like such a nice guy!" Demyx blinked. A nice guy? That was a first. "You know," she added, "We don't
have
to be in the contest."
"We don't?" he asked hopefully.
"No," said Kairi, "We could always back out; they won't care!"
"You know what? If it's ok with you, I think I'd rather do that."
Kairi's smile grew wider. "It's definitely ok with me!
"Then let's go cancel before they call us up!" said Demyx.
"Ok! Hey, listen, after we do that, do you want me to show you the rest of the festival?"
"Does any of it involve us dating each other?"
She giggled. "Not if you don't want it to!"
"Good. In that case, count me in!"
The End!​
Reviews would be much appreciated!