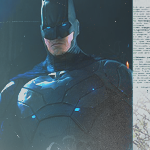 Joined

Aug 20, 2005
Messages

5,089
Awards

0
Snow White War: Disney's 'Order of the Seven' - The Spill Movie Community
While Universal and Relativity Pictures duke it out publicly and privately with their competing adaptations of the Snow White mythos, Disney has entered the fray with their own submission: a uniquely interesting film titled 'The Order of the Seven'. Rather than blandly adapt the classic tale (as Relativity seems to be doing), or making it a grrrl empowerment vehicle with Lord of the Rings overtones (as Universal seems to be doing), Disney has decided to go in a completely different direction and transform the fairy tale into a China-set martial arts saga. Yes, you read that right: Snow White as a martial arts saga.
'The Order of the Seven' takes the idea of the seven dwarves and transforms them into seven highly skilled martial arts masters, each from a different part of the world. Set during the 17th century, the disparate international masters are all part of a centuries-old order who have lost their way when a chance encounter with a fleeing Englishwoman and an unrelenting evil that pursues her gives the men a chance at redemption and a new path to follow.
Originally conceived as 'Snow and the Seven', the film has been in various stages of production over recent years and has had a variety of writers submit scripts, ranging from Michael Chabon ('Wonder Boys', 'Spider-Man 2') to Jayson Rothwell ('Malice in Wonderland'). Newcomer and visual effects designer Michael Gracey has been tapped to direct the forthcoming film, which may be unique enough in it's direction that it could easily surpass the other two adaptations.
Yup.