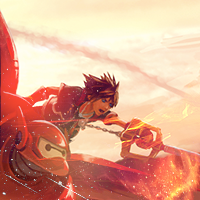 Joined

Jun 2, 2006
Messages

4,848
Awards

0
Location
Re: The Official VA Discussion Thread
I got used to Marluxia and loved Shanelle Grey as Larxene.

Speaking of Shanelle Grey I find it funny how most of the cast of splatterhouse did voice work for kingdom hearts.

The leads were Josh Keaton(young Hercules) ,Shanelle Grey(Larxene), and Jim Cummings(Pete,Pooh, and Tigger).
I've never heard of that before.
The only voice I dislike is Billy Zane's replacement for Ansem Seeker of Darkness. I was extremely upset with his replacement. Has there been any word on why Billy Zane was replaced? I'm sorry for asking, I've really slipped in my Kingdom Hearts information so I'm back to "noob" status when it comes to this type of information.