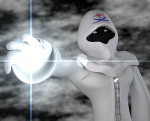 Joined

Apr 21, 2005
Messages

5,800
Awards

2
Age

29
Location
Re: The Official BBS VA Discussion Thread
Honestly after watching the E3 trailer over and over, watching Cinderella, and more battle scenes: I can put down my original thought of Willa Holland sounding deadpan. "He's not as weak as you think.", and her Cinderella lines prove she gets much better. I'd like to think that the beginning speech was her literally just getting into Aqua's character, as to where she sounds much more into it later in.

The only one i'm still iffy on is Terra VA. He sounds like he fits the age, and less deep, but it somewhat sounds like his voice breaks in battle.
I agree with your opinion on Aqua. As for Terra... I honestly don't see a problem with it I actually thought it was great. Well... maybe if I was to be nitpicky, one of the words he said in a gameplay video was hard to understand.
asir said:

Some parts were off though, like when Master Eraqus beings talking and when Terra talks to MX.

Also I find that "channeled" part from MX very very orgasmic.
What do you mean by "off"? If you mean off-synch then I'd disagree because it seemed pretty synched to me.