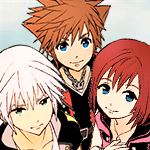 Joined

Dec 5, 2009
Messages

2,127
Awards

6
Location
My top choices would be either a monk so she punches good or a dragoon. Mainly because dragoons are normally purple and that's her color. lol
Her being a brawler would be funny, still I'd be down for it.
Kairi being playable would give us an excuse to visit Radiant Garden again. It's her homeworld and they could take advantage of that even if the FF cast are AWOL again. Especially if her grandmother has ties to Chi.

As for teammates I just remembered discussions about her teaming up with Max a few years back. Sort of like Noel and Serah from FF13-2
Agreed there's a lot still unresolved between Kairi and her home world. For one we don't know how she feels about it, how she felt about seeing it in ruins in KH1, if she remembered anything while being there etc. I'd like Axel to be that worlds party member if we do go seeing he too could have unresolved business there.
I'd be down with her and Max Teaming up, he's kind of the only other Disney character I consider mayor that has yet to show up.