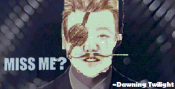 Joined

Jun 6, 2005
Messages

8,020
Age

35
The Marked (An Original DT RP)


[FONT=&quot]
[/FONT]
[FONT=&quot]Story: [/FONT]

[FONT=&quot]The "Day of Rebirth" that was the day when it first began. It was on that day that the very first child of the new generation was born. These children from then on were marked for the rest of their lives. It wasn't until 7 years after the Day of Rebirth that the very first of the incidents occurred. It was all over the news. "Child killed by freak!" No more than a day passed by before retaliation was brought to the surface. The families closest to the "freak" immediately took arms and in the fashion of the olden day mobs stormed the residence of the 0 Patient. After that only rumors followed as no one was allowed to speak of it. Some say the child ran away. Others say that no one could bring themselves to kill a human being of such young age. However one rumor stood above all others. It was this very rumor that people were forbidden to speak of ever again. It said that on that very night they tied the child to a tree and set them both ablaze. Quiet hatred spread throughout the world like a plague. It was in that moment that the United Nations sprung into action declaring an immediate evacuation of all determined and possible "Marked" beings. However there was a problem of determining where to "quarantine" them and so it was finally decided that instead of taking the risk of a new world war that those Marked would be placed around the world in foreign countries of highly classified locations. These locations were only available to top priority members of the UN, and so the secret was kept safe from the entire world for years and years to come. Two full generations have been formed since the so called "Day of Rebirth" and both the peace and secrecy have been kept. However in recent days a security breach has occurred, but it has been kept quiet as murders have been occurring across the globe in a steadily alarming rate. It was because of this very reason that the Academy of the Special Arts or otherwise known as the "AotSA" was founded. This special academy works with those that are Marked in order to train them into two individual categories, these being both soldiers and intelligence officers. It is hoped that these Marked beings will be able to put an end to the serial killings that are occurring across the globe once and for all.[/FONT]


[FONT=&quot]
[/FONT]
[FONT=&quot]Plot 1 (The Soldiers, Intelligence Officers, and Regular Citizens): [/FONT]

[FONT=&quot]Welcome to the AotSA or Academy of the Special Arts. This academy serves the purpose of training and teaching the Marked. The AotSA extends from high school to the end of college. However entry into the establishment is accessible at any time up to the beginning of college. After finishing the college levels of AotSA two routes are opened for the graduate. The first route is to enter the real world and normalize as a regular citizen. However on record it will be stated that all who accept this choice have received military training and have a college degree in whatever category they chose to study. The second route would be to become a member of the Special Forces unit attached to the academy. The unit is commonly used to subdue worldwide threats such as the current issue of grisly murders occurring internationally. In the unit there are two individual categories that of the regular soldier given special training under strict militant officers. Then there are also intelligence officers more commonly referred to as spies. The intelligence officers are trained more heavily in the art of extracting or deceiving into retrieving information rather than combat as the soldiers are. However they are also trained in various forms of combat such as martial arts in order to hold their own on the battlefield. As a member of the Special Forces you report information directly to the UN and take orders only given from them. As a regular citizen you have all the skills necessary to function as a normal person as well a few extra given from the AotSA, so combat shouldn't be too much of a problem. However you don't have the extra two to three years of training that a soldier or intelligence officer would have. It is also commonly known that upon birth the Marked possess a tattoo commonly referred to as "The First Mark" on their right hand which is also known as "The Weapon Mark" and is capable of summoning a weapon which is based on their personality. However like a normal weapon it can be broken and if broken it can be summoned again through the same tattoo. But the weapon cannot be summoned more than once at a time so as a result only one weapon is present upon being summoned not more or less than. There is also a surgically implanted mark on the left hand which is received upon graduating from the 12th grade to college and is commonly referred to as "The Second Mark". This mark is exceedingly more powerful and dangerous. It is often referred to as "The Effect Mark" or more simplistically called "The Power Mark" and is used as a catalyst for an ability or power. This power more specifically uses the weapon as a conductor for the ability and through the weapon the ability is capable of being used. For example the power of duplication could be used to multiply the number of weapons so that you could wield more than one weapon at a time. In another example the power of invulnerability could be used to give the weapon an unbreakable feature so that it could not be broken under any circumstances unless the power was removed.[/FONT]


[FONT=&quot]
[/FONT]
Plot 2 (The Serial Murderers):

[FONT=&quot]Unbeknownst to the UN or the AotSA the massive scale murders that are occurring around the globe are being conducted by a large group of individuals who are Marked but despise the way they are being treated. In doing so they have decided to get the attention of the world and strike back against what they refer to as the "Old Humanity". They do this by killing all normal humans and even other Marked if they choose to stand in their way and cannot be converted. For whatever personal reason or otherwise they have become a threat worthy of immediate extermination and are being hunted/sought out secretly by both the UN and the AotSA.[/FONT]




Rules:

[FONT=&quot]1.[/FONT][FONT=&quot]No god-modding.[/FONT]
[FONT=&quot]2.[/FONT][FONT=&quot]No power-playing.[/FONT]
[FONT=&quot]3.[/FONT][FONT=&quot]No machine gun posting.[/FONT]
[FONT=&quot]4.[/FONT][FONT=&quot]Literacy is required. If you're unable to do this then use Microsoft Word's Spell Check.[/FONT]
[FONT=&quot]5.[/FONT][FONT=&quot]One paragraph per post is required. The length of a paragraph is typically between 5 and 7 sentences.[/FONT]
[FONT=&quot]6.[/FONT][FONT=&quot]It is expected by everyone to remain active within reason in this rp. Which means at the least 2 posts per week. Should there be a reasonable excuse PM'd to DT then it will be allowed.[/FONT]
[FONT=&quot]7.[/FONT][FONT=&quot]Romance is allowed. But remember to keep it reasonable.[/FONT]
[FONT=&quot]8.[/FONT][FONT=&quot]As long as the RP is still active anyone may still join.[/FONT]
[FONT=&quot]9.[/FONT][FONT=&quot]No killing characters without proper authorization from the character's creator.[/FONT]
[FONT=&quot]10.[/FONT][FONT=&quot]It is key to remember that no one is all powerful in this RP. Keep it reasonable.[/FONT]
[FONT=&quot]11.[/FONT][FONT=&quot]Please try to be creative in the creation of your character(s).[/FONT]
[FONT=&quot]12.[/FONT][FONT=&quot]As to "The Second Mark." If you are unsure if you could use the power or not then please ask before you put it into your template and I will get back to you on it ASAP.[/FONT]
[FONT=&quot]13.[/FONT][FONT=&quot]Also "The First Mark" doesn't have to contain a weapon necessarily. It can also contain an item from something simplistic such as a knife to something more weapon like such as a saw.[/FONT]
14.When done place the following above your template "Marked."




Templates(s):

[FONT=&quot]Name: (Insert name or what your character is called here.)[/FONT]
[FONT=&quot]Age: (How old your character is and remember to be accurate!)[/FONT]
[FONT=&quot]Gender: (What sex your character is.)[/FONT]
[FONT=&quot]Appearance: (What your character looks like physically and clothes wise.)[/FONT]
[FONT=&quot]Personality: (How your character acts generally.)[/FONT]
[FONT=&quot]Side: (Murderer or AotSA member?)[/FONT]
[FONT=&quot]Rank: (Intelligence Officer, Soldier, Former AotSA member, etc.)[/FONT]
[FONT=&quot]Place of Origin: (Where was your character born?)[/FONT]
[FONT=&quot]The First Mark: (The First Mark is all about your character's weapon. Be it an image or a description I would like you to also think about and talk about it a little. Details please and also remember be creative.)[/FONT]
[FONT=&quot]The Second Mark: (The power, ability or effect your character has if they even have it. Remember this ability is relied entirely upon your weapon so connect the two.)[/FONT]
[FONT=&quot]Bio: (A one paragraph at the least entry about your character/past of your character.)[/FONT]
[FONT=&quot]Other: (Any extra information you'd like to add about your character.)[/FONT]




Accepted Characters:

1. Dr. Ken Time - Pocket Watch - Time and Space

2. James Zachary Roberts - Scalpel - Replication - Tactile Electrical Manipulation

3. Richard Kiylu - 9 Individual Wires - Life Transference

4. Selena Uzuri - Combat Gloves - Super Strength

5. Dawn Yami - Mirror - Spirit/Dream Walker

6. Jobii - Large Black Sword

7. Levin - Detachable Claws

8. Gale - Detachable Bladed Staff - Fire Manipulation

9. Kay Rebel - Scythe - Enhanced Senses

10. James Lyon - Dagger

11. James Bowen - Black Katana - Shadow Walker

12. Capell Suzuki - Sword - Resonance

13. Sam Thompson - Chakrams - Poison

14. Clarissa Bravoure - Paint Brush

15. Hinata Uzuri - Necklace - Healing

16. Aero - Bladed Boomerangs - Wind

17. Andrew Wood - Pocket Watch - Hallucinations

18. Alexander Crane - Camera/Printed Photos - Reality Altering

19. Emily Grovolinni - Durable String - Promise

20.
Last edited: