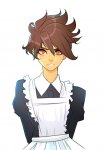 Joined

Nov 30, 2006
Messages

5,429
Awards

5
Location
For The Record
​
;July 14, 2110;
Localized Transmission XX0100D-XX
Encryption Code: DELTA-WHISKEY-ECHO
Public Key: N/A
<From: CODENAME:
[PATRONIZED WITNESS]
>
<To: CODENAME: CREDULOUS SHEPHERD>
<Subject: THE IMPLAUSIBLE BEGINNINGS OF THE INITIATIVE & AND CONCEPTION OF THE NEGATIVES>
<Classification: EYES ONLY, CODE-WORD [-------] TOP SECRET>
<Security Override: LEVEL-V>
/File Extraction…. Complete/
/Initializing BETA encryption…. Complete/
/Start File/
Like ravenous vultures you waste no opportunity to beat the proverbial horse – metaphorically of course, we don't need that nasty business in 2020 to come up again do we? Though that isn't exactly the surprising part, no, the
really
surprising part is the fact that you asked
me
. I should be flattered, amused and excited for the chance to methodically tear apart the biggest thing since localized retina-based flash transmissions. But strangely enough, I'm not, I am more curious as to why was
I
the one in charge of this. I mean, I am perhaps the most undependable creature on Earth and if anything; everything I submit here could be a blatant lie. Well, I guess we'll have to find out, let the historians sift through the wreckage ensued by Luculent Science while
we
hide all of the good, juicy bits. Nice to be working with you again [-------].
;September 14, 2070;
Contrary to popular belief
this
is when it all started. In a college dorm room at the University of London where a bright young lad by the name of Llyod Wesker (who at the time was finding an applicable use for ecophysiology with his knowledge in molecular biology) came up with a brilliant idea. I know you and your associates know where I am going with this but never fret, I won't be throwing red paint all over your golden boy Wesker. His idea involving the human genome in which through molecular experimentation and manipulation could help the intricate process of molecular reproduction hundredfold was revolutionary. And it all came from his pet dog when he had repurposed the dog's genetic disposition to allow it to grow a
second
tail.
Molecular regeneration. It wasn't cloning, far be it from that, it was quite literally the production of new cells from scratch. A feat thought impossible and in fact was laughable even when Wesker presented his evidence. Then he did something drastic. In order to show that this little experiment wasn't a fluke he had produced a second brain using his own cells.
Of course the controversy and the sheer outrage from that little stunt had blown up in his face the moment after his little college friends took a picture of the second brain but, it all worked out unfortunately. He was given a rather luxurious job over at Interceptive Humanitarianism and the opportunity to have his brain picked – figuratively of course – by the best minds in the world.
Hm, that worked out well.
;December 17, 2075;
United Asia and literally the entire South Pacific were playing catch-up to Wesker's idea over at IH. The Western powers held a considerable technological advantage over everyone else as they were the top dogs when molecular regeneration was finalized. But what they were doing was childish. Regenerating new body limbs, an entire hand here and leg there, it was nothing compared to what would happen next.
Dr. Kim Fujikawa and Dr. Nikolai Petrov would be the force to rival IH. They took it a step further and introduced wide-spread cloning about the entire populace rather than the more privatized practice by Interceptive Humanitarianism. People blame it on Petrov and Fujikawa but really wasn't it our faults? We had to get involved and ignite the biggest arms race since the 1950s. Oh right, sorry, on to Wesker.
At that point we had to point Petrov's and Fujikawa's little idea with a bigger one of our own. That is when everything went downhill.
;July 14, 2087;
The Initiative was started. Interceptive Humanitarianism was brought down by multiple lawsuits and about forty plus employees being indicted for abnormal testing upon the cerebellum of tens upon thousands of children. Wesker got away unscathed. At that point you guys got your hands on him and well, the rest is history huh? Luculent Science was created from the ground up, it suddenly sprung overnight but no one questioned it since your influence was part of its creation.
Wesker began a program called the Initiative. It was a tricky program to get started since at that time the U.S. had passed a ban on all genetic and physiological testing but Luculent Science got past all of that. The Initiative was a program intent on helping those with muscular dystrophy, at least that's what was said to the public. Sure, they took
in
patients with muscular dystrophy and even those with severe brain damage, but we all know that those patients were overlooked.
Underneath the surface, behind the fake smiles and handshakes those genetic experiments were still going on. Even worse, you got Section III involved.
The Initiative was the thing that was going to put the Western powers back on top again; it was going to put them light-years ahead of United Asia and Russia. Well, it certainly did that. It all started with a child: Patient 005-MI-Z or [-------] to those who knew him well.
He had a certain mutation that enabled him to gain telepathic abilities. Now, this wasn't something like moving a coin or opening a door with his mind, no, no, it was far darker and far scarier than that. Whatever came to his mind became reality. Every thought that ran past his little brain exploded into existence and bam it was there. He could make pain go away, he could make any sort of physical trauma disappear at the blink of an eye, he could make it snow during the summer, he could make it hot during the winter, whatever he wanted to do happened. What do we do naturally? We tested him. We put so many electrodes and probes in him I'm surprised he didn't become a human lightning rod afterward.
We looked at his genes over and over and over again and he was our personal little guinea pig. Sure we stole him from United Asia but who wants to worry about that kind of thing? Oh, did I just submit that last sentence? Whoops, silly me.
[-------] was the golden egg we've been looking for. We took his genetic code and decided to replicate it. At first it was rather successful. Little hamsters suddenly gained cognitive thought, they were able to form communiqués in their own defecation and be able to efficiently recognize and understand human language.
Then they decided to push things even farther. Projected results from the Initiative indicated that by 2230 there would be a widespread use of [-------]'s power so that everyone on Earth would have evolved into an esper.
We were pretty impatient.
;January 1, 2090;
The Radical Evolutionary program was started but it was bound so tight and suppressed so much that even
I
can't be sure this program exists. It was used after the front for the Initiative was taken down and when Luculent Science decided to take a more domestic outlook on life. They became a general health and warfare provider while this Radical Evolutionary program started underway. With over three hundred children with the correct genetic disposition Luculent Science began to alter their genome and began to pump in Patient 005-MI-Z DNA in them.
It nearly killed 005-MI-Z but you guys didn't care, at the end of the day you got what you wanted: three hundred super soldier babies. From there the details get sketchy, the people involved will say everything went according to plan while the sleuths and the paranoid Joe will tell you that Section III got more intimately involved. Yeah, that's right, I may be risking being tried for treason but let it be known that you guys, you "heroes", got yourself involved in something crazy, that you Section III bastards changed the course of the world and as a result probably brought about the apocalypse, and for what? For getting first place? Pathetic, but we aren't here to point fingers, we're here to find out the "truth", whatever that may be.
The first class of genetically altered people was rough in the beginning. Their bodies were rejecting 005-MI-Z's power (that he himself colloquially referred to as "All Fiction") and a lot of them were becoming comatose as a result. Such a magnitude of power being forced into someone was dangerous, but Luculent Science got smart when they started the second class. These guys were tough and mean and extremely rowdy, the process of forcing 005-MI-Z's DNA in their bodies became simplified. They made things easier and thus made things faster.
;October 16, 2090;
Whew, things went to hell at this point didn't it? Luculent Science went public with the Radical Evolutionary program, now being colloquially referred to as "R. Evolutionary" with the members being called "Revs". A bold step I'll admit, but in order to get past the law banning human testing they had demonstrated the Revs' potential.
During the Rainforests War in central Africa, Revs were being deployed in for covert and deniable operations behind enemy lines. They were sending in a bunch of twelve and thirteen year old children to fight a bloody war. These were done in secret and even sanctioned by the United States government; needless to say that the Revs' service record was impeccable.
They had ended the war that was projected to last for two more years in the matter of five months. Naturally this gave the Revs and Luculent Science a free pass. They were granted to go public with their program and to start widespread genetic augmentation in spite of the fact that they had violated so many laws it would make your head spin.
Luculent Science had a motto: "Creating the Perfect Human". They wanted to bypass the laws of nature to make someone literally evolve into the perfect human.
;March 20, 2093;
At age six, Patient 005-MI-Z ran. He managed to gouge out someone's eye and slaughter ten employees of Luculent Science just to get out of there, he ran and ran as far as he could from the horrid place but you guys didn't care. By that time you guys had practically memorized his DNA and could continue your experiments without his body. Ironic though, your arrogance is what cost you.
Because when he left your DNA map of his All Fiction wasn't the same as the original. Your test subjects became more chaotic and more rampant than the normal ones, their powers were developing but they were forming in strange manners. Their abilities weren't like the normal telekinetic or clairvoyance-centric person, they were more
Negative
. A term coined by 005-MI-Z later on, he described himself as the most negative person on Earth and that his "creations" were Pluses while those created after he left were "Negatives" like him.
The Negatives had abnormal abilities that were even strange for a Plus. It seemed that quite literally the purpose of a Negative was to bring about destruction since their abilities can do no good and only inflict harm on others. There was no positive merit to their abilities thus why they were Negative.
These Negatives were seen as freaks, even amongst the mutants created in the R. Evolutionary program. They were ostracized because of their negative abilities and as a result became filled with contempt for anyone who was a Plus or even normal people. From here things get a bit obscured. There are rumors, well
many
disturbing rumors about what happened to the Negatives at this point. Some say that they were so hated they were used as training dummies for the Pluses. Others say that as a result of their Negativity Section III locked them all away so that the public would never see someone so twisted. However one thing is for sure, 005-MI-Z got to those Negatives.
Two years after 005-MI-Z's escape from Luculent Science strange things were occurring. More and more of the Negatives began to go up missing. Every day it seemed that a Negative would just up and vanish from Luculent Science. At first everyone was relatively content with their disappearances, then well the gravity of the situation hit them. They realized that the public would be able to see such horrid creatures meant for horrible things and while they had the assets to cover up anything they were still fearful for what happened to the Negatives. Soon it was obvious. They were being recruited.
It turns out 005-MI-Z moved to Colorado and began to recruit Negatives for…
something
. We all know what he was doing but without proof I can't say much. But since this is for the record I'll just come out and say it. Patient 005-MI-Z, real name [-------], went to Colorado and began to recruit Negatives for the sole purpose of starting a war. He wanted to bring down Luculent Science and Section III in one swoop and to do that he needed soldiers.
It wasn't hard for him to recruit the Negatives; after all he was one of them. He got through to them with kind words and even promises, he swore that he would be able to make those Negatives feel like a Plus like they deserved. Crafty little bastard, frightfully brilliant, you guys should've killed him when you had the chance.
When Section III heard about 005-MI-Z's presence in Colorado they overreacted. They
nuked
the damn place, but what's worse, they pinned it on an accident. Claiming it was some testing program that went haywire, the government never took notice but then again… you guys control the government.
;Present Day: 2110;
They expected 005-MI-Z to be dead. Well, turns out the damned kid is immortal and he ended up surviving and moving to New York. I personally have no idea why he would want to do that until I remembered that the covert center of operations for Section III was right in the heart of New York.
His recruitment for the Negatives is ongoing and since this is the heart of Section III you guys can't react with a tactical nuke. Interesting actually, because when he showed up there you moved every single Rev over to New York to defend the damn place. They are under some ruse of being a part of some civil defense squadron but in reality you are just afraid of your Frankenstein coming back and tearing your heart out.
The Revs don't know what they are up against, they have no clue that they are going to fight some deranged Negative with the power to warp reality, they have no clue that they are going to fight the original; the one who literally made them who they are. For the record I am under obligation to say: I hope those Revs get 005-MI-Z, I hope that they can go on to prove just how superior they are. But since this is off the books anyways I'll say this: You guys created a monster, a typhoon in which because of its conception billions of people
will
die. You aren't concerned with how things will turn out; you probably aren't even bothered by the fact that you may be risking hundreds of lives to take down
one
person. So, for the sake of humanity, for the sake of 005-MI-Z, I hope you all will crumble under the weight of your arrogance and burn for your sins.
/End File/
​