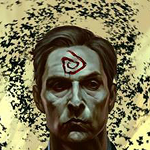 Joined

May 16, 2007
Messages

5,612
Awards

4
Location
Testing the waters on this one. It's not complete but I was curious to see how people would react.
Let's have a look at some of the official art for Chirithy:
One of these things is not like the other!
Have a look at the symbol on Chirithy's... coin purse.
While all three are star-shaped, it changes noticeably in the last pic.
To...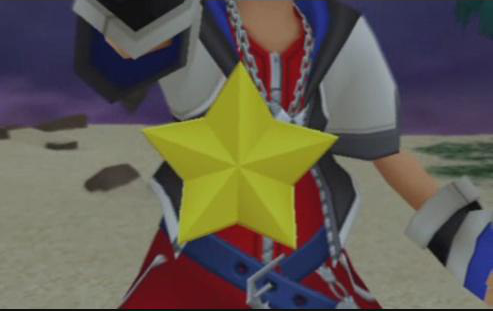 Namine's charm!
So does Namine have something to do with this? Not quite.
Bear in mind the context of the art. For chi's second anniversary, Nomura decided to have a bit of fun with the artwork by swapping everyone's clothing. In true Nomura fashion, he's hidden a clue in plain sight.
If everyone else in that picture has their outfits swapped, could Nomura be suggesting that Chirithy's outfit was swapped as well? Namine is wearing Kairi's outfit and Kairi is wearing Namine's outfit.
So if Chirithy is holding a Namine coin purse, then in all other instances, he is holding a Kairi coin purse.
I will admit that the symbols aren't a one-to-one match, but I think that, if they were, it would have been too obvious. They're similar enough that it warrants the comparison.
Now--how to make sense of this idea.
Pretty easy, actually.
We just pick up where we last left off for Kairi.
Yen Sid intended to train Kairi as a Keyblade wielder. The natural end would be for her to take the Mark of Mastery exam. Aaaand what is Yen Sid's preferred method for the MoM?
The Sleeping Worlds.
In light of the fact that Chirithy is a Dream Eater, there's already been some debate about whether or not Daybreak Town is caught in a dream or is a historical reality. Well---dream it is!
So, what, am I saying that from there Kairi created Chirithy as its master? Before any of you scream at me--
Before my master, He who created me, disappeared,

He bestowed His six followers with new names, and gave five of them a tome of prophecy.
I get it.
Instead, I would guess Chirithy's master is Yen Sid.
Think about it. Yen Sid, not wanting to repeat the errors that occurred in 3D, chooses to enter the Sleeping Worlds with Kairi (which, considering his knowledge of them, I could easily imagine he's visited before). From there, he creates Chirithy as Kairi's spirit. As the only known Dream Eater capable of speech (aside from Riku lol), and one which is prolific, it seems to be a special kind which is perhaps why Yen Sid was tasked with creating it rather than Kairi.
Chirithy has some as-of-yet to be revealed purpose. While I haven't connected the dots there, I will say that, with this knowledge, I think Chirithy is aware that his surroundings are illusory and that he is hiding the facts behind this charade from the player. Not necessarily out of ill intent but out of duty. If you notice, he occasionally acts awkward, such as when the player identifies him as a friend—I think this may be his guilt slipping out; would you feel comfortable lying to a friend?
Anyway, before Yen Sid departs to have Kairi begin her test, he of course decides to drop some knowledge on the Foretellers. In other words, I don't think he's giving them the real 'Tome of the Prophecy' (assuming there is one) but rather his own scripts. You'll recall from KH2 that Yen Sid dabbles a bit in future-gazing:
That and/or I would say he gives them something akin to Jiminy's journal, which has already been noted as being similar to the Foreteller's script. That would explain where they're getting the "power of the future" from with all of these cards.
Again, though, I haven't connected the dots any further than that. How this would all play into Kairi's MoM, I'm not sure. Just figured I'd give you guys something to chew on.
I'll leave you with this for now though--remember, like I said earlier, Nomura sometimes likes to leave clues in plain sight.
Back when coded first was coming out in bite-sized installments, do you remember the
opening scene
? Right there, before we even had caught wind of the other mysterious message left in the journal, there was "Thank Namine" staring us straight in the face. The name of the author of the mystery message was on screen before the mystery itself.
And now we look to chi.
Check the opening. Who do we see?
Last edited: