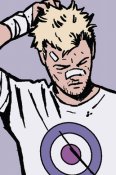 Joined

Dec 8, 2004
Messages

6,797
Awards

6
Location
Figure we need something like this. Simply just post stories of what you did on the weekend.

Even though it's only Saturday night/Sunday morning for me, my weekend is pretty much over now since I have work tomorrow night.
But tonight was pretty fun.

No drinking but we stole some cheese from work and decided to wreak some havoc. Driving past cars and slapping cheese on them. We went to the house of a guy we went to school with and smothered his car in McDonalds cheese, and my other friend even pissed on the bonnet. We covered that thing.
I wish we could see his face the next day.

And then having nothing else to do after that, we decided to pay my old high school visit with the remaining cheese. We slapped cheese on the windows, on door handles, we shoved it through the keyholes, and arranged the cheese in the shape of penisis on several windows.

Ahh. Good times.
Last edited: