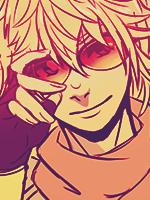 Joined

Mar 31, 2008
Messages

12,519
Awards

6
Age

31
Location
We all know that joining roleplays are fun and all, and we create our own characters for those roleplays, but the process of creating our own is a whole different story. My question to you, KHinsider Roleplaying SEction is what is your creation process? Please keep it in mind when answering the following questions:


What goes into your mind when you begin to create an idea for your rp?

What kind of things inspire you to come up with the ideas that you eventually put into your rp?

Are there any factors that lead up to creating an rp?

When you have finished writing out the plot and all that follows, do you instantly plan out your arcs of the rp?

What kinds of characters do you imagine when you're thinking up of your rp? Does it influence your creative process?


My answers will come later on.