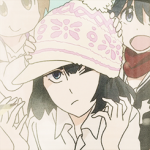 Hyped Ruler of Honnouji Academy
Joined

Jul 7, 2009
Messages

5,297
Awards

4
Age

29
Location
Well, I'm finally doing it: I've decided to finally post one of my fanfics here on KHI. I hadn't intended on ever doing that, much less posting it here before posting it on fanfiction.net, but I told myself that I wouldn't do that until I got to writing Chapter Four at least, and I'm curious to see what you all think.

DISCLAIMERS: I do not own the Kingdom Hearts franchise. It is property of Square-Enix and Disney.
____________________________________________________________________________
~ The Chains That Bind ~

​
1.
Life is full of surprises; anything can change at any given time or place.
For example: over the course of a single month, Radiant Garden (considered by many to be the pinnacle of technological advancements and also a city of peace) quickly became infected with two strange new breeds of monsters, filling the streets with blood and fear. Despite the Guardians' attempts to fight back, Radiant Garden was quickly succumbing to the new forces plaguing the city.
The city's leader, Ansem the Wise, had his most trusted disciples conduct scientific studies of the new threats, though there was little they could do. The monsters were much too dangerous to be able to capture and restrain for thorough investigations, but from what the scientists could observe, they dubbed the two breeds "Heartless" and "Nobody" respectively. The two breeds shared a connection with each other and both grew in unison, feeding off each other.
Within the first four weeks of the monsters' arrival, it was clear to Ansem that the Guardians would not suffice against the threat. As was protocol throughout the world, Ansem sent out requests for immediate aid from Keyblade Masters close enough to arrive in time to make a difference. Only two such groups were in such range, and the bad blood between the two camps was rather infamous. From the west were Master Eraqus and his pupils, and from the east were Master Xehanort and his single pupil.
No one knew exactly
why
there was a rift between the two camps, Xehanort and Eraqus had once been the best of friends, but the rift was there just the same. However, Ansem needed the most help he could get and sent out requests for help to both parties.
He could only hope that whoever arrived from both ends could be able to work together to save this beautiful city…
2.
As it would turn out, neither Xehanort nor Eraqus arrived themselves. Instead, both had sent a pupil of theirs to answer the call for aid.
In Master Xehanort's defense, he was certainly getting rather old and nearing the final years of his life. Plus, the elderly Master's estranged son, Xehanort the Second, was Ansem the Wise's most trusted advisor. And while the old man would prefer to die fixing things up with his son, Master Xehanort knew it probably wasn't going to happen. Not to mention that Master Xehanort had sent out his sole pupil, who had just recently been granted the Mark of Mastery after successfully stopping a threat by the name Kefka Palazzo: Master Vanitas Rizzo.
While Master Eraqus was certainly getting older himself, age was not the reason why he chose to send a pupil in his stead. Rather he wanted his prodigy, newly ranked Master Aqua Bianchi, to begin her career as a Keyblade Master on a high note and show the world why the water maiden was the one to successfully bring down the cruel Seymour Guado and earned her Mark of Mastery for it.
Both young Masters represented the future of the Keyblade Wielders and the world they were sworn to protect. The difference between the two, as well as the rift between their teachers, was their methods of
how
to protect the world…
3.
"Wow, who is
that
handsome young devil?"
"I don't know… do you think he might be moving to Radiant Garden?"
"Don't get your hopes up. Why would anyone want to move there right now?"
"I know… but can't a girl dream?"
"… Yeah."
"Seriously, that black hair and golden eyes… he's so handsome."
"Do you think he can hear us?"
"No, of course not. We
are
whispering after all…"
Master Vanitas Rizzo smirked with pride as he continued listening to the two ladies a row behind him on the opposite side. While the two young ladies were whispering rather quietly, Vanitas could hear them perfectly clear. He was trained to be able to do such, and he couldn't deny that he enjoyed listening in on such conversations. It was vain of him, certainly, but what the hell; Vanitas enjoyed feeding his ego from time to time.
Not to mention that there wasn't much else to do on the train at the moment. Vanitas had read and re-read the case file over a dozen times, and didn't feel the need to read it again just yet. He had it memorized by heart, but he'd probably decide to read it again right before meeting with Ansem the Wise, just to make sure he didn't miss any details. After all, Vanitas
was
a pragmatist by nature.
After feeling that he had indulged his ego enough, Vanitas stopped listening in on the two ladies and began thinking about who Master Eraqus would send to Radiant Garden. Vanitas was certain that his twin brother, Ventus Rizzo, wouldn't be the pupil from Eraqus. After all, Ven hadn't been granted Mark of Mastery yet.
Taking Ven out of the running left two candidates for his would-be partner (
Vanitas felt sick at just the very thought
); either Terra Mangini or Aqua Bianchi. Vanitas assumed it would be the latter, as Ms. Bianchi was the only one of Eraqus's three pupils to been granted Mark of Mastery at this point. However, Vanitas admitted that there was a chance that Eraqus might send Mr. Mangini; according to Ven, Terra was Eraqus's adopted son. Personal preferences might have resulted in the lesser option being sent to the case.
Either way, it didn't matter to Vanitas, as he had never met either one of Ven's friends or even Ven's master. After all, their teachers weren't exactly on good terms with one another. The two brothers were able to keep in contact, but that was just about it.
No matter which pupil Eraqus sent, Vanitas just
knew
they were going to be a pain to work with. Having decided on that, Vanitas decided to look at the case file yet again and began reading…
4.
Not unlike Vanitas on his train, Master Aqua Bianchi and her attractive looks was the topic of discussion for two young men seated nearby. However, while Aqua
could
listen to the two men go on about her looks, Aqua wasn't interested in listening and instead was re-reading the case file for the hundredth time. The situation she was about to go into was certainly dangerous, and it certainly wouldn't hurt to memorize the details.
The scientists speculated that the two breeds, the Heartless and the Nobodies, were the split incarnations of humans who had lost their heart; the Heartless being the Heart overtaken by Darkness and the Nobodies being the empty Body and Soul left behind by the Heart. Because of this nature, the scientists believed that the two breeds fed off one another, both benefitting from the lives they claimed.
Aqua sighed, ran her fingers through her blue hair in frustration and thought to herself, '
This isn't going to be easy…
'
And she knew that was only an understatement. There was still her would-be partner to add into the equation; Master Vanitas Rizzo, the twin brother of her friend Ven. Aqua had never met Ven's brother before, but he was Master Xehanort's sole pupil. From what little Master Eraqus ever said about his former friend, Aqua knew that Master Xehanort had a curious mind about the Darkness and had been rumored to use it in combat. If such were the case, then it'd only be natural to assume that Vanitas was also familiar with the Darkness and would utilize it in combat.
Aqua felt a small pang of guilt inside for judging someone she didn't even know personally, especially since the person was the twin brother of her close friend Ven. But at the same time, Aqua had been trained to believe that Light was absolute. Darkness was an evil and one that needed to be done away with in the future. Master Eraqus had firmly cemented this notion into Aqua's mind over the years that she had been his pupil. And having come face-to-face with evils in the past, most recently Seymour Guado, Aqua agreed with her mentor's belief.
Aqua sighed to herself and pushed the worries away from her mind. She was an adult now, at age nineteen, and she needed to behave like one. Judging Master Vanitas Rizzo before having even met him was a childish and immature thing for her to do. Whatever she would end up thinking of her friend's twin brother would be because of his actual personality and what she would see with her own eyes.
And with that, the water maiden continued reading the case file again…
5.
Ansem the Wise sat in his study, a nervous excitement filling his bones. Both of the Keyblade Masters were scheduled to finally arrive at Radiant Garden today, and just in time. There was no doubt in anyone's mind that there was still time to salvage the city from the monsters infecting it like a disease. And these two Keyblade Masters would be the cure. That much, Ansem the Wise felt confident in.
Ansem suddenly heard a chuckle by the door. He looked over to see his most trusted pupil, Xehanort the Second standing there with a warm smile before he said, "Sir, you look like a little boy on Christmas Day."
Ansem chuckled in kind, before replying, "Well, I suppose it's for good reason. Help is finally on the way and just in time. The Guardians can't hold out much longer. These two Keyblade Masters are both highly regarded and accomplished people, and should be of great use to saving this city."
"Indeed… I must admit that I'm curious in meeting my father's pupil, young Master Rizzo. He's certainly accomplished a great deal as of late… did you hear about the incident in Figaro?" asked Xehanort.
"Why yes, I did indeed hear about that. It's incredible that a young man of the age of eighteen was able to take down Kefka Palazzo singlehandedly. Your father certainly must be quite the teacher. You impressed me greatly when we first met all those years ago, before I even took you in as my own pupil," Ansem reflected as he stroked his blonde beard in thought.
"My father certainly
does
have a brilliant mind about him, I must admit. Still… even the most brilliant of men can make incredibly foolish mistakes," Xehanort replied with a somber tone in his voice, running his fingers through his long silver hair.
Ansem rose from his desk and approached Xehanort, patting him on the shoulder with a smile as he said, "There's still time, my apprentice. You could always reconcile with your father one of these days."
Before Xehanort could reply, a voice said from behind the two, "Sir, the Keyblade Masters will be arriving soon. We should be going now to welcome them both to the city and escort them to the castle."
The two men turned to see Braig, another one of Ansem's disciples, standing in the hallway by the door with a grin on his face. Ansem nodded and replied, "Then let us be off. The two Keyblade Masters deserve a warm welcome, after all."
With that, Ansem walked past Braig and down the hallway. Braig and Xehanort walked not far behind him, both curious to see what the two visitors would be like.
Braig smirked a bit as he suddenly asked, "So did I ruin a moment or something?"
Xehanort glared, "Whatever do you mean, Braig?"
Braig gestured his hands, "Oh not much. It just looked to me like you and the boss man were talking about the Old Coot again."
"It's none of your concern," Xehanort flatly replied.
Braig feigned a hurt expression as he replied, "As if! I'm only worried about my amigo is all."
Xehanort chose not to reply and within a few minutes, the two reunited with Ansem and several of their peers and with that, entered the carriage to meet the two guests.
6.
After the train had arrived at the station in Radiant Garden, the first thing Vanitas had done was find the nearest telephone booth and called his brother Ven. The lazy bum that was his twin brother didn't pick up the phone until the fourth time Vanitas tried calling him, depleting him of more money than necessary.
"So you made it to Radiant Garden safe and sound, Van?" asked a cheerful voice from the telephone.
"Yeah, yeah, I'm there. And don't call me Van, you idiot," Vanitas shot back with an irritated tone in his voice. "So who did your master send to Radiant Garden?"
"Oh, Master sent Aqua there. I'm glad that the two of you will finally be able to meet! I've been wanting one of them to meet you. Terra wanted to go on the mission too, but the Master said he wasn't quite ready for it yet," explained Ven.
"From what I've heard of Terra, he wouldn't be ready. Figured it would be Aqua," Vanitas mused. "You talk to Mom or Dad recently?"
"Actually I have! They're doing fine. Sora just turned five a month ago."
In addition to his twin brother Ventus, Vanitas also had a little brother named Sora, who was still living with their parents. Vanitas had only met him four times in Sora's whole life. Training under Master Xehanort required Vanitas to be out in the wilder parts of the world, so Vanitas hadn't had much chance to see his family often.
Vanitas groaned with irritation, "Great. I forgot to get him a present… I'll find him a present while I'm in Radiant Garden and have it mailed home."
"That sounds fine to me. Listen… I know you've been taught very differently than my friends and I, but I'd appreciate it if you treat Aqua nicely. She's a good friend and from the looks of it, this mission you both are going to be working on will be really dangerous. Can you keep an eye out for her?"
Vanitas glared at the phone in his hand, before replying, "Ven, this friend of yours is a Keyblade Master. She should be able to take care of herself just fine. I'm not a babysitter you know."
"I know that. Aqua's more talented than me and Terra combined! It's just that both of you are important to me, so I'd appreciate it if you two took care of each other," Ven replied.
Vanitas sighed before answering, "Whatever. I have to go now. The officials here are waiting for me."
Vanitas hung up the phone before Ven could reply and with that, stepped out of the telephone booth, picking up his single suitcase as he did so. As Vanitas walked around the station, he looked for whoever would be waiting for him. Presumably, the welcoming crew would have a big sign with his and Aqua's names on it, blatantly revealing their arrival. Vanitas glared at the thought; if the two breeds of monsters appeared out of nowhere in this specific city alone, that meant there was almost certainly a person behind it all. And while that person probably already knew of the arrival of two Keyblade Masters, it certainly wouldn't help showing the news in a large crowd.
Within a few minutes, Vanitas did in fact see a sign with his and Aqua's name on it in the distance. Thankfully it made no reference to titles such as "Masters" or "Keybearers", so to the common public it was just another sign in the station. '
At least these people aren't
total
idiots,
' Vanitas thought with a hint of relief in his mind.
As Vanitas walked towards the welcoming crew, he suddenly saw
her
. Maybe it was the blue hair, maybe it was the confident composure she had, but Vanitas
knew
this woman was Master Aqua Bianchi.
And much to his displeasure, Vanitas couldn't stop the thought that this lady was the most beautiful woman he had ever seen from entering his mind. After a moment, Vanitas managed to push the thought away from his mind and approached the group. He was there on a mission damn it, and he wasn't about to allow himself to get distracted by a woman's insanely good looks. Especially since this woman was going to be his partner on the case.
That wasn't to say Vanitas wasn't interested in women or going around for a bed romp. In fact, he'd bedded a handful of women in the past few missions he had been on. He just preferred to do so after the mission was said and done.
After all, Vanitas was a pragmatist by nature…
7.
Aqua was also able to immediately recognize who Vanitas was when she saw him. He certainly bore a strong resemblance to his twin brother Ven, especially in the face, but there were also some clear differences just by looking at him. Unlike Ven's spiky but short blonde hair, Vanitas had a mane of spiky black hair. While Ven had cerulean blue eyes, Vanitas had amber-gold eyes. While Ven had a very happy and friendly way about him, Aqua could tell just by looking at Vanitas that he was a much more pessimistic and non-sociable person than his twin.
While Ventus seemed to be an example of Light, Vanitas appeared to be Darkness Incarnate.
Vanitas was wearing a black pea coat, with a buttoned up red shirt and black pants. Aqua couldn't stop herself from thinking that the young man looked quite sharp and handsome. '
Not only that, but he definitely has a great amount of self-confidence about him,
' Aqua noted to herself, a blush coming about her cheeks. '
Get a hold of yourself, Aqua. You're on a mission, not a date.
'
Ironically enough, despite her undeniable beauty and kind spirit, Aqua had never once been on a date before in her whole life. After all, she had spent many years up in the Western Mountains with Master Eraqus, Terra and Ven, training to become the best Keyblade Master she could be. Romance was not particularly common under such situations.
Shrugging the thoughts of attraction aside, Aqua approached the welcoming crew. In the center stood Ansem the Wise, a tall middle-aged man with blonde hair and a matching blonde beard. He wore a kind and inviting smile as he shook hands with Vanitas and then Aqua, "I trust that both of you had a comfortable trip here?"
Both Keyblade Masters nodded their heads affirmative, to which Ansem replied, "Good. I'm terribly sorry that your presence here is needed, but we cannot last much longer without any sort of aid."
Aqua replied, "That's why we do what we do, sir. As Keyblade Masters, it is our duty to protect the innocent and maintain order and justice throughout the land."
Vanitas rolled his eyes, as he thought to himself, '
Perfect. She's a total girl scout.
' Deciding not to let anyone catch on with his disdain, Vanitas said, "I think it'd be best if we all get to the castle. These sorts of things shouldn't be discussed out in public. The wrong set of ears may pick up a thing or two."
Aqua nodded in agreement, "It would probably be a lot safer to talk about this in private, sir."
Ansem looked at the two, next at his disciples, who all nodded in agreement, and then finally replied, "As you wish. Come follow me to the carriage and we'll take you to the castle immediately."
With that, Ansem and the others headed on outside the station to the carriage waiting for them. Aqua was at the front with Ansem, while Vanitas was in the back of the group next to Xehanort the Second. Vanitas looked at the man next to him; Xehanort certainly did bear a resemblance to his elderly master, especially when Vanitas mentally compared him to an old photograph of his Master from when he was a younger man that he had seen once. Suddenly, Xehanort the Second said, "So you're my father's apprentice."
Not sure where this was going, Vanitas replied, "Yes, I am. He's been training me since I was five years old."
"Thirteen years under the old man's teachings… well I certainly don't envy you. How is he doing nowadays?" asked Xehanort.
Vanitas hesitated for a moment, before answering, "He's doing as fine as ever."
"I see," And with that, Xehanort moved forwards, towards the front with Ansem and Aqua. Vanitas remained in the back, curious as to what was going on in the mind of his mentor's son.
Was it that the younger Xehanort simply wanted to reconcile with his elderly father before it was too late? Vanitas assumed as much, but he couldn't deny that there was something odd about the group he was with. Vanitas looked over Ansem's disciples, examining each and every one of them, before zeroing in on one in particular near the front. The man had short slick black hair, combed back, and had a worn red bandana on his neck. Vanitas glared a bit at the man. Whatever his game was, this man was going to be unpredictable.
'
What an odd lot you've surrounded yourself in, Ansem the Wise
,' Vanitas thought to himself. '
What an odd lot, indeed
.'
Author's Notes: As the thread title states, this is an alternate universe story. Vanitas isn't a villain, but rather an anti-hero.

So thoughts thus far?
Reviews are love. <3

Your Pal,
Theart