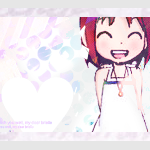 Proud Demyx/Kairi Shipper
Joined

Oct 12, 2007
Messages

4,281
Awards

1
Location
THE BROMANCE FAN CLUB!​
What is bromance?
First things first, this is not the same as yaoi. Contrary to what the word within the word might compel you to think, there is no romance in bromance. It's all about the brotherly love. It usually consists of two guys who are unrelated (though it's not required, i.e the Weasley twins and the Winchester brothers) who would basically do almost anything for each other. But there is no romance involved whatsoever, unless they happen to be fighting over the same girl.
​
Rules:
1. No flaming or bashing of any members, characters, or anything, though that should be a given.
2. Like the "Non-yaoi/yuri club", I suggest we each pick a bromance to support and I'll put it up here next to your username. (I hope that's ok with you, madammina!)
3. No yaoi. I'm sorry for anyone who happens to be a fan, but this is not that type of club and never will be.
4. Have fun!
Founder:
Organization_42- Sam and Dean Winchester
Members:
Karate- Turk and JD
madammina- Gus and Shawn
Rali- Phoenix Wright and Miles Edgeworth
Ziz- Niko and Brucie
Choc- Donald, Jose, and Panchito (The Three Caballeros)
The Liberator- Gandalf, Aragorn, Legolas and Gimli
The Lionheart- Sora and Riku
Rain- Sora, Donald, and Goofy
Audo- Charlie and Hurley
Reflection- Syaoran and Clone Syaoran
DJQQ- Spyro and Sparx
*TwilightNight*- Reno and Rude
Cloud: shattered heart's lover- TBD
roxasisamazing- Sora and Roxas
MelodiousNymph- John/Paul/George/Ringo (aka the Beatles!)
Gildragon- Batman and Robin
AxelRoxasFan223- Axel and Roxas
Amata- Axel, Roxas, and Demyx
Strawberry- Terra and Ven
PowerOverNothing- Frodo and Sam
Xion_Z_Forgotten- Lee Chaolan and Lars Alexandersson
Current Topic:
What's your favorite scene regarding your bromance?
Last edited: