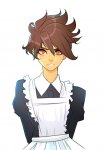 Joined

Nov 30, 2006
Messages

5,428
Awards

1
Location
Reading his neon powers again, its accurate. Actual Neon (Light) is described as an electric charge passing between chemical gasses trapped inside a cathode bulb. I would imagine this is replenish-able outside of not just demonic aura, but actual artificial light. The actual current when imbued with the gasses can give it a unique color or depending on the chemical the electrical current charges. His dash can also be seen (by definition) as a form of transmutation, where the entire body's composition changes to that of the elected material. I'd assume by simple terms, he becomes an intangible string of electrified gas, moving along at an abnormal pace as "speed of light" was not specified in particular.

As for Neon itself, it is a monatomic gas that is for the most part inert, but emits a bright glow when charged with an electrical current. Because it is a gas with an electric current passing through it, "heavy" and "light" attacks refer to the density of individual bursts when weaponized into bursts or beam-like applications. This is due to compression of the gas compacting itself and then emitted.

It makes more sense to treat a demon's qualities as a physical manifestation of their individual aura(s). I don't adorn the term "magic" in association simply because Aura is finite and replenish able through rest or consumption of perishables. This is just my opinion, but I treat everything I created for a species based on some kind of system akin to make the most probable amount of logic.


Was that a good enough explanation? My brother helped with...maybe 60% of that.
1. It doesn't say speed of light so he can't do so. Its as simple as that to me.

2. Doctor Who joke. I caught it and throw you a David Tennat.

3. Except he..can kill himself for even attempting anything magical but whatever floats ya Noah's Ark. <--- that there is a real man's joke.

4. Explain the neon power more thoroughly? It's pretty thorough on how it works. Idk how much that could be broken down before its Light Powers for dummies.

So responds Naruto
Excellent! Put that in the temp :3
Readjust or remove the magic bit entirely and we're in the business!
By the way, next time you don't need to explain it to me, just edit the template and the process will go by smoother.
I'll get back to you Ubi, the temp is still lingering..