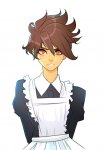 Joined

Nov 30, 2006
Messages

5,429
Awards

5
Location
In the ancient days, Arcadia was considered a utopian society. It was built upon the foundation of human civility and congressional cooperation. The city is an ancient symbol of power, it has been at the center of all the world's greatness and failures, many heroes of old traversed through Arcadia in their odysseys.
It seems this tradition has not lost in the modern day, there have been several outstanding occurrences throughout Arcadia. Horrible blazes, freak lightning storms, mass disappearances, all of which have the same element attached to it; extraordinary people involved either as the perpetrator or the victim, all exhibiting similar qualities. Superhuman, as they have been recently coined as, seemingly ordinary people with extraordinary skills or qualities.
These superhumans exhibit a number of skills and qualities that the average human wouldn't be capable of. Although an official catalog no longer exists (as the Hunters' library has been destroyed) some of their abilities have been well-noted. These superhumans vary in many different ways, some of them align themselves to darker purposes, others align with the Hunters in other to pursue justice.
As the days and years pass by, more and more of these superhumans appear. Some of them operating covertly, some of them revealing themselves as openly as physically possibly. These appearances are not coincidental, the universe is rarely so lazy. A storm approaches, something earth-shattering, which can shake the entire foundation of humanity as a species.
And it is in these occasions where the ancients would rise. Stories, fairy tales, nightmares straight out of a child's mind coming to life. Creatures of all walks of life, horrible things once considered myth by the modern man are more than real. To the average human, these things would all be categorized as monsters, the good and the bad. But we know better.
Angels falling from the sky, demons rising from the hellish depths, gods of old walking the earth, heroes like Hercules and Theseus being as real as you and me. All of this is converging in this one tiny, seemingly insignificant, city. War is coming, and before the barracks could be prepared, we'll need to figure out how the sides divide.

The Story So Far
​
Monsters of all walks of life have been appearing all around the world, attacking indiscriminately but focusing harder on those humans or nonhumans of special abilities. It seems to be all converging on Arcadia, the attacks become more ruthless with time. Recently, however, there have been a counterattack rising. Superhumans banding together to combat the evil monsters. These heroes have taken up the mantle which would be refused by the saner man.
But would it be possible to defeat so much evil? The Cult of Lucifer rises, a culmination of the nightmares of every human since they first stepped out into the sun. They claim to follow an ancient prophecy which tells of the rebirth of the quintessential fallen angel and the destruction of all things good.
The Cult seems to be hunting superhumans specifically, sometimes they are merely hunted and killed, other times they are abducted and not seen for days, even weeks, on end only to turn up dead… their eyes burned out of their heads. No one seems to know
why
such a thing is occurring, not even the Angels of Old have a clue, or at least that's what they tell us. The only previous force that could withstand the destruction of the Cult, the Hunters, are long gone, wiped out years ago by a demonic task force. There are a few Hunters out there, the ones that only barely managed to survive the horrific ordeal, but there aren't a lot out there and whatever knowledge they had was burned away in the attack.
All that is made apparent is that the Cult seem to be specifically targeting superhumans, outright ignoring their ancient rivals, the Angels, and has been centered around the city of Arcadia. There has been an inauspicious word floating around… Eden.
Whatever they plan to do, it is obviously not good, can these superhumans and Hunters (at least whatever remain of them) rally together to stop this?
Setting
​
Arcadia:
The grand city of Arcadia stands as one of the exemplary representation of modernity. With a population within the millions and continually rising, this place is nothing to sneeze at. Although there have not been many advanced technological advances (that status is held by Alexandria) their research and development progress has been just as excellent.
It seems this city, from the beginning, was destined for greatness. Some cosmic or divine force had caused numerous of both grand and terrible events to converge on this unassuming city. Wars were planned and fought here, blood of millions were spilt there, and heroes of all kinds were born and died here.
The Cult of Lucifer originated from all over the world but have been converging on Arcadia to carry out their insidious plot. The city holds an ancient power, one, that if harnessed, will yield horrific consequence. The superhumans are quite commonly from Arcadia, it seems even greatness are born there.
The Combatants
Rules
:
Be cool man, that's pretty simple
Swearing and romance is fine, but keep it PG-13, eh?
Obvious KHI rules apply
Enjoy yourself! This is meant to be fun, if you have an idea for anything at all please present it to me! I rarely reject ideas, I'm open for anything, pretty much
I understand real life is a priority but please tell me if and when you won't be around, it's fine you won't get kicked, just tell me otherwise you will.
With species you can be a superhuman, Hunter, angel, demon or anything you can think of. Refer to rule 4 with this, I'm literally open for anything, this is the time where you can come up with anything you want and expand on that in the abilities sections. Reality-warping, forms of invulnerability/immortality, and time travel are automatically banned unless you can present your competence to me.
No skeleton templates. Just finish your temp and post it, there's no good reason to post a half-finished template, you won't lose your place in line.


​
Code:
Template:

Name: (Quite straightforward, what do you want us to call you?)
Age: (Any age, really, is fine, so long as you don't require diapers)
Species:  (The common ones are angel, demon, human or superhuman.  However, you  can make up whatever species you like and roll with that,  it'll be chill, really)
Gender: (Again, straightforward [sometimes])
Faction: (Hunters, Cult of Lucifer, or Angels. If we get a good number of characters, neutrality will be fine as well)
Weapons: (Anything you want, from future tech, to archaic, to hextech)
Appearance: (I will accept a picture or a paragraph description, that means [I]four[/I] full sentences)
Personality: (About 2-3 sentences [I]minimum[/I], but don't just list adjectives, get creative. Do the template first person if it helps)
Powers:  (I'm giving you a lot of liberties with this. As many or as  little  abilities as you want, you could even not have any, if you want.  But  refer to the rules for the limitations, if, however, you feel you  can  handle any of the banned powers pm me and we'll hash it out)
Bio: (Optional, really)
Misc: (Anything else you wanna add, again optional)
Hunters
​
Last edited: