Joined

Jul 25, 2008
Messages

9
Age

28
*move if needed*
Hi, this thread is for ideas rather than an actual story. I have some ideas for a story like Kingdom Hearts-type story where the main character goes to different worlds.
Worlds
Hero's Home World-Inferia
Megaman Star Force-Earth
Legend of Zelda-Hyrule
Fire Emblem-Tellius
Metal Gear Solid-Homebase
Yugioh-Duelist Kingdom
Naruto-Shinobi Regions
Gaia Online-Durem
Ace Attorney-Courtroom
Star Fox-Lylat System
Final Fantasy 7 and 8-Midgar
Megaman ZX-Legion
Eclipse Saga-Moonbreak
*re-visit above worlds*
Golden Sun-Weyward
Inferia revisit
Yugioh GX-Duel Zone
Earth Re-visit
Sword Of Mana/Seiken Deisetsu 4-Mana Tree
Final Fantasy 4-Baron
Durem Re-Visit
Inferno Volcano (Legion Beast Inferus' home)
Character Profiles-Heroes (Original)
Name: Taisaka Lockhart
First Appearing World: Inferia
Weapon: [Inferia-Legion] None. [Legion-End] Snakebite Rod
Element: Poison/Fire
TekTek Avatar: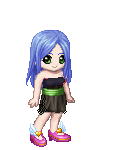 Story: Taisaka was only 11 when she and her leader, Eidaya Swarm, and her sister, Xalexis, had to go fight the puppet of darkness, Kaid, on Inferia. Kaid sent his first minion, Taikaya Nin, to separate Taisaka and her teammates and revive the seven Legion Beasts. Taisaka befriended a girl on Earth named Sonia Strumm, who was a singer. Her EM being, Lyra, dropped a crystal flame from her form, causing it to drain Taisaka's memories. It was soon revealed that Taikaya had thrown a shuriken at Lyra causing the flame to drop. Taisaka soon recovered her memories, but Taikaya had given her and Sonia many problems throughout the worlds.
Character Profiles-Villains (original)
Name: Kaid~The Puppet of Darkness
First Appearing World: Inferia
Weapon: Currently Unknown
Element: Darkness
TekTek Avatar Link:
Story: Not much is known about this character. He is a pure shadow formed from the hatred of humans, and he is the Supreme Ruler of all of the Kaid Unit Leaders. His residence are unknown, but he has made appearances at Inferia and Durem so far. He is often seen with Maylynn and Sculptor, two of The Kaid's Unit Leaders. He is known as the Puppet of Darkness, as he cannot control his hatred towards others, and he is easily controlled by shadows.
Character Profiles-Heroes (From other worlds)
Coming Soon!
Character Profiles-Villains (From other worlds)
Coming Soon!
Character Profiles-Legion Beasts
Name: Inferus~The Volcanic Core
First Appearing World: Durem
Ability: Molten Blazer
Element: Pure Fire
Notes: Inferus is the first Legion Beast. Legion Beasts can only be summoned by gathering a large quantity of a world's vital source. Inferus is summoned by the fear of beings.
Story: Gathering the fear of Gaians, Kaid summoned Inferus at Durem, leaving Taisaka to fight it alone. Her attacks proved useless at first, but after a while, her Leader Eidaya and his apprentice, Hant, showed up to give Taisaka strength to defeat it. Shocked by Inferus' defeat, Kaid told Sculptor to warp Taisaka and Sonia to another world. Afterwards, Eidaya fought with Kaid, and lost...
Character Profiles-Supporting Characters
Coming Soon!
Character Profiles-Enemies (Original)
Coming Soon!
Character Profiles-Enemies (From other worlds)
Coming Soon!
Feedback is welcome, and I will accept ideas!
~Scythe
Last edited: