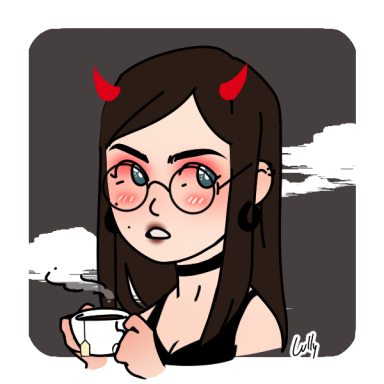 Joined

Jan 20, 2004
Messages

4,621
Awards

11
Age

32
Location
Website
[[CW: Sexual assault, dubious consent, etc.]]


Entering my third year of high school, I wanted nothing more than to be loved. Absolutely nothing was important to me; not grades, not friends, not my drawings. I feverishly read horrible romance novels and comics, wishing for that to be me. I was always the girl the boys in school would ask out as a joke, never serious. Even if I were to say no to a request it would result in laughter from the group of boys and the boy was mocked because he was turned down by me. I was 16 and afraid of dying alone and ugly. It had to be my face, not my body that I was still growing into. It had to be how I talked, what I was interested in, who I talked to. I saw couples in the hallway with bitter disgust and envy. I wanted to blend in, wanted to be cool so badly and I was still recovering from the fact that I didn't know how to talk to people properly yet.


As the school year started, I began talking with my next-door neighbor, a senior at our school:, an older, taller, broad shoulder boy that turned 18 in September. He messaged me on Facebook laughing that we never talked before despite being neighbors and that was so funny. Matt was into heavy metal and classic rock, and I hadn't experienced much of it, being more raised on stoner rock like Pink Floyd by my father. I wanted Matt to love me, so I listened to his music to try and make him like me, as I believed that the want I had for him to love me was love in its own way. For once, a boy, this boy, spoke of his interest in me, flirting with me, teasing me. I idolized him.


He talked with me online on AIM primarily, and eventually told me, "I'm going to give you a condom to hold onto when you're around me, in case I lose control of myself around you."


I took it as a romantic gesture.


He snuck through the trees separating our yards and without a word, put the plastic wrapped condom in my hands, and I felt the cold wrapper in my fingers. I gave him back the CD of music he put together for me and thanked him and strained to remember some tracks that I enjoyed, just to prove that I listened to the tracks enough to find favorites. He scrunched his round face with a nod and turned back to his house without much of a word in return.


A week later, he asked me to hang out, he told me to bring the condom, in case. He messaged me, he said he was lonely. He lamented over how much of a sex addict he was. and I comforted him and told him we could go to the nearby playground and talk in person. I was excited when I took the condom and placed it in the loose pocket of my jeans, wearing a red tank top that showed my cleavage with a pushup bra, the only value on my body.


It was the 13th of September, a Thursday. It was a particularly nice fall night with the slightest chill of the breeze with the smallest overcast of thin clouds overhead, occasionally covering the stars and the moon. We talked, sitting on the playground equipment, of the playground and I fiddled with my long hair, trying not to look at him too long, insinuating, psychically urging for him to prove to me that he loved me, that he wanted me.


I thought that what I wanted was what he gave me, when he grabbed me from behind when we were walking back home together. I walked fast naturally but he caught up to me and put his arms around my waist and grinded into me as he moaned into my neck and bit softly. I gasped and thought, "Yes, finally someone loves me."


He turned me around and bent his head down to kiss me, his lips plumper than I thought they'd be, too soft, too wet. Matt wrapped his arms around my waist again and pushed his tongue into my mouth and I returned it. He pulled back to ask if we could go somewhere more private, and his idea of privacy was on the grassy outfield of the baseball field. He asked me if I was ready to use the condom, with all of my clothes off and at my side, after doing, as I told my friend that night, "just about everything you could do" and stiff from clenching and being afraid to say no to any of it.


You could say no to sex, not anything else, and sex was only when he sticks his dick in so why was I so afraid? Why did I freeze on contact, freeze when he pulled my clothes up? I could only shake my head to using the condom that night, he asked, "Not ready?" and I shook my head again. My face burned as I felt tears coming down, afraid that he would never talk to me again now, and I pulled my clothes back on before a passersby would see. I thought I saw someone shift a curtain back in a far away apartment building and turn the light off as the clouds took over the glowing half moon in the sky.


Matt assured me that he would chat with me the next day at gym, and we walked to his house. He kissed me once more, and went inside and the lie stuck for a long time. I believed that what had happened was a good thing, that he liked me a lot, that we would start dating, that I had a boyfriend finally. I ignored the freezing. That was normal, I was just nervous. I ignored the fact that I would freeze similarly around people when they snuck up behind me. I wanted to be loved, and if that was what it took, I could wait, I could push through. Who else would ever look at me like he once did? I couldn't even look at myself in the mirror without wondering if there was something unseen, the reason that he left me in radio silence.


Matt assured me plainly now online, and suddenly never was at gym, or if he was, was far away with friends that I couldn't approach. Occasionally I'd see a side glance, feel my heart skip and plummet as he looked away again. I didn't understand what was happening. No one told me it would be like this.


I rubbed my neck where he left a mark and waited for months for a love that never came with unknown scars that I wouldn't take care of for years. The trauma is still strong, the definitions of what is rape, what is assault, what happened to me, still to this day is confusing and messy, at best. On some days I would say that I am able to talk about this because I am over what happened to me, but on others, the force cripples me, the sound of his breath on my ears sound like everyone's sighs, the feeling of the hair on the back of my neck rising as someone stands behind me as he did sting, and then, suddenly, silence once more. I will continue to be haunted, but the ghosts get easier with time. What doesn't get easier is describing it, defining what happened to me. Was I raped? Was I confused?


Especially at the time of this happening, I had no words for what happened to me. I went from love struck, to excited that I was finally loved by someone, to quickly realizing he did not give a single shit about me, then heartbroken, to confused. At the time I hadn't even had my mandatory health class with the couple months on the side dedicated to sex-ed, or the fifteen minutes the teacher explained that rape was something horrible, the worst pain a woman could ever feel. This was not painful, and I also did not have "sex" by the "normal" definition. I was just frozen, unsure what to feel, what to do. There were no real feminist movements with a powerful media outrage telling men not to rape, no explanation of different kinds of rape or assault. At the very least, those nuances and discussions did not reach my ears for years to come and even despite all of these things, I still can only (albeit still) uncomfortably define my experience as sexual assault. The words are not only a powerful thing upon his actions, his person, but also mine as a victim, to other victims. I do not want my experience of confusion and fear to be equated also to severely worse stories from people with worse experiences, or, at the very least, avoid the comparison games all together.


Matt does not know I wrote this, I never wrote about anything publicly to anyone. I remember trying desperately to warn a girlfriend of his in high school about what happened but realized the words couldn't even come out of my mouth, no definitions, no accusations. Just a warning. She ignored me and they dated for about a year. Now, a decade after this happened, I check his profile on Facebook and he's married to a very cute girl living happily and I can only worry. I try to scoff at his now almost completely bald head, the fact that he wasn't even cute anyways, but the sinking feeling of guilt and the misplaced words and feelings that he gave me took that away long before I wrote this.