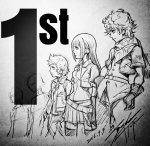 Joined

Dec 26, 2007
Messages

3,619
For those wishing to learn of the Cold War...the time of struggle for both the Jedi and the Sith...the time of separation and unity...the time before the New Sith wars and end of the dark side's threat...this is for you.

-Anonymous Force User 976 b.b.y.
Datacron 000
Those who lead the Empire
Darth Nox
- the Legacy of Sith Lord Kallig, member of the Dark Council, the Forcewalker, Master of the Dashade
The Emperor's Wrath
- the Sith Emperor's newly inducted personal enforcer, killer of the Emperor's False Voice
Grand Champion of the Hunt
- Mandalorian winner of the Great Hunt, known as the "Republic's most wanted Bounty Hunter"
Cipher Nine
- Cipher Agent of the Imperial Intelligence Agency, Double-Agent for the Empire, Savior of Kaas City
Throughout the Cold War these four lead missions and operations for the benefit of the Sith Empire and in response were constantly at odds with the Republic's top forces. This "Republic forces" team was known as the Coruscant Aegis.
Coruscant Aegis
Hero of Tython
- Savior of the planet Tython, slayer of the Sith Emperor, Master of the Jedi Order, codename: Shield
Ace
- Captain of the XS Freighter, Republic Privaterr, Known as "the Outlaw", codename: Ace
Havok Commander
- Commander of Republic Army's Havok Squad, Leader of Republic Special Forces, codename: Meteor
Barsen'thor
- Scorekeeper's Herald, Eradicator of the Dark Plague, Redeemer of the Emperor's Children, Master Sage of the Jedi Order, codename: Guardian
Datacron 001 to feature a part of the mission titled The False Emperor.
Last edited: