Site Staff Manager
Staff member
Those who have purchased the KINGDOM HEARTS remasters are certainly no stranger to the games' streaming restrictions. Since their release, Kingdom Hearts 1.5, 2.5, and 2.8 have prohibited players from broadcasting footage of the games in full through the Playstation SHARE function. If players were to try and share footage of the 358/2 Days, Re:coded and X Back Cover cinematic movies or latter portions of 0.2 Birth by Sleep -A fragmentary passage-, they would find themselves unable to do so.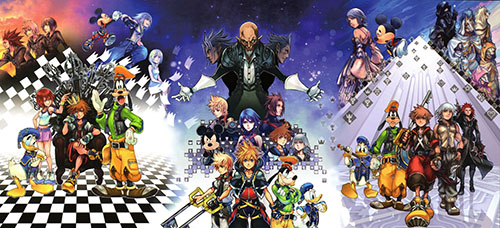 However, with the releases of Kingdom Hearts -The Story So Far- on October 30th and Kingdom Hearts 3 on January 29th, Square Enix has finally decided to lift those restrictions.
Series Director Tetsuya Nomura made the announcement on the official Kingdom Hearts Twitter. goldpanner has translated the tweet:
To help spread excitement as we lead up to KH3, tomorrow 10/25 3pm JST we are releasing a patch fully unlocking share function in 1.5, 2.5 & 2.8 (cinematic titles included). Archives etc may be restricted by technical issues, if so please contact our support center. -Nomura
Are you excited to finally be able to stream footage of the remasters unhindered? Let us know!
Follow Kingdom Hearts Insider on Facebook, and Twitter for the latest updates on Kingdom Hearts Union χ [Cross], Kingdom Hearts 3 and all things Kingdom Hearts!