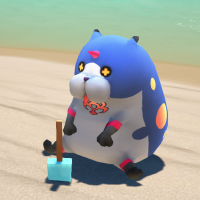 trapped in revamp hell
Staff member
Kingdom Hearts Union X Japan updated with 5 more quests today (No. 876~880). The new world based on Wreck-It-Ralph, called "Niceland" makes its debut! 
Watch the scenes with English subs, translations by goldpanner! 
Ephemera: Is this… the new world?

Chirithy: There are so many exits.

Oh, there!

(You see the bugs go into Fix-It-Felix Jr. Player starts to run off after them but Ephemera stops them.)

Ephemera: Wait a minute.

(On the other side of the station, the Darkling escapes to Hero's Duty.)

Chirithy: Ah, there too!

Ephemera: The source of the glitches, and the Darkling's goal…

It looks like we will have to split up to investigate.

I'll go after the Darkling. Player, you check out the glitches!

(You nod and split up.)
(Player and Chirithy arrive in Niceland. Chirithy looks around but can't find the bugs.)

Chirithy: They got away…

We can't just let them go. Let's hurry up and find them!

(You start walking away when all of a sudden, a scream sounds out. You look in the direction to see a tall apartment building being attacked by Heartless.)

Chirithy: Heartless too??

(You get ready to charge.)

Chirithy: Seems like you know what to do.
(You defeat the Heartless and continue making your way up the building to confront the mystery man.)

???: Who are you?

Don't tell me you're trying to go Turbo! Not in my game, you don't!

(You defeat the man and send him falling off the edge of the building. But then, a voice calls out.)

???: Ralph.

(Someone emerges from a window.)

???: Ralph!

(He spots the Player.)

???: Wait, did you…

(He runs over to the edge and sees Ralph lying in the mud.)

???: Oh no!

(He pushes you away.)

Felix: What are you doing! You can't just come into our game and do whatever you…

Well, okay, Ralph is a villain, but he's an important villain in this game.

Ralph wrecks, I fix. The who defeats him is me, Felix.

It looks like the players didn't notice, so you're off the hook this time, but make sure to be careful from now on.

Now, I have to go prepare for a party. See you.

(You watch him run off. Meanwhile, Ralph cleans himself up and makes his way towards the rubble he calls home. He covers himself in bricks and looks up at the building.)

Ralph: I'd like to try being a hero, like Felix.
Players will obtain the new "Bad Guy Breaker" Keyblade upon clearing quest 880. To upgrade this Keyblade, players must use magic gems and a special trophy, which is obtained from clearing a quest objective. It currently caps out at +5.
3 new songs have been added in this update: the theme of Game Central Station, as well as field and battle themes for Niceland. Listen to them below!
Last edited by a moderator: