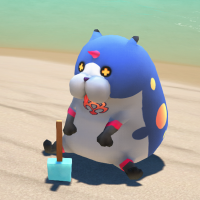 Site Staff Manager
Staff member
5 story quests have been added! The Union leaders have a disagreement over "Shift Pride", and a new character is introduced!
Watch the cutscene now with English subs, with translations by goldpanner!
Disclaimer: It's unclear whose sister Strelitzia is, but for our translation, we will be going with Lauriam.
(Ephemera sits alone in the Foretellers' Room, reading Ava's book of rules.)

Ephemera: ...

???: Something wrong?

(It's Skuld.)

Ephemera: Ah, yeah.

(Skuld, Brain and Ven join Ephemera.)

Brain: What are we talking about today? I'm very busy. There are so many books I have to take a look at.

Ephemera: Then let's finish up as soon as possible.

(Everyone sits down around the table.)

Ven: Lauriam isn't here though?

Brain: Oh, Lauriam won't be attending today.

Ven: Huh?

Skuld: Is that alright with you?

(Everyone looks at Ephemera.)

Ephemera: Well, I would like for all five of us to decide things if possible.

Brain: He said that whatever is on the agenda, he agrees with Ephemera.

Ephemera: Huh?

Brain: That's what he told me to pass on. Guess he trusts you, Leader.

Ephemera: We're all the leaders.

Brain: Well, whatever. Let's get this party started.

Ephemera: Oh, yeah…

When you were chosen as Union Leaders, I believe you all received a copy of this rulebook.

(The others take out their copy of the rulebook.)

Ephemera: Now, this is about the "Shift Pride" mentioned in here.

Skuld: Oh, that…

Brain: Battles between fellow Keyblade Wielders, right? Something wrong with that?

(Ven slams his book down and leaps out of his seat in shock.)

Ven: Fighting fellow Keyblade Wielders!?

Ephemera: You didn't read it, Ven?

Ven: I did, but I didn't realise that's what it meant…

Brain: It's only a competition type of thing, right? I think the lack of recreation was going to be a problem soon anyway. Plus, hey, it's in the rules.

Ephemera: Hmm…

Ven: I'm against it.

Brain: Ven, stating an opinion outright? That's a first!

Ven: Look, even if it's just for a competition, I hate the thought of friends and teammates going Keyblade to Keyblade.

(Skuld looks at her book and reflects on the Player interrupting other wielders' fight pre-Keyblade War.)

Skuld: I'm against it too. It only gives me a bad feeling.

Brain: That's two versus one. It's all down to you, Ephemera.

Ephemera: I… I think we should obey the rules.

Ven: No way.

Skuld: Ephemera!

Brain: And since Lauriam agrees with you, I guess we're done here.

(Brain starts to leave.)

Ephemera: Wait, Brain.

Brain: Hm?

Ephemera: We will follow the rules, but we won't have Keyblade Wielders fight.

Since the Keyblade War, the worlds we travel in the name of experience all exist in a separate space, reproduced from data. When we enter those worlds, we ourselves are converted to data. That means there should be records of our individual data.

Brain: I see what you mean.

Ven: …So what does that mean?

Ephemera: The opponents will be data recorded from Keyblade Wielders. This way, we can avoid clashes of the heart.

Brain: And, as per the rules, you can run "Matches between Keyblade Wielders," right?

Ephemera: Yeah.

Ven: Wow!

Skuld: Yeah, I feel like that would be okay.

Brain: All things considered, that's a really good idea you came up with there. That's not like you, Ephemera!

(Everyone laughs.)

Ephemera: You're all terrible. 

Well, really, I guess you can thank Lauriam.

Brain: Why him?

Ephemera: Many, many days ago…

(Flashback! Ephemera is sitting at the table with his book, deep in thought. Someone calls out to him.)

???: What's wrong? You look troubled.

(Ephemera turns to see Lauriam.)

Ephemera: Oh hi, Lauriam.

You know, that "Shift Pride" thing written in the rules…

Lauriam: Oh yes, that.

Ephemera: Even simply as a competition, I believe it's dangerous to have Keyblade Wielders fight each other. But we do have to follow the rules…

I wonder why Lady Ava and the others would have us do such a thing…

Lauriam: Hmm… Relaxation? Or something?

(They share a laugh.)

Ephemera: You can't be serious.

Lauriam: Well hey, you're smiling now. You should lighten up about this.

Ephemera: Yeah, you're right. Maybe I'm a bit overwhelmed by this Union Leader stuff.

Thank you, Lauriam.

Lauriam: Hey, it's nothing. The five of us only have each other to share these secrets with.

(Lauriam starts to leave.)

Ephemera: Where are you going?

Lauriam: Since the Keyblade War, everyone has been travelling through those recreated data worlds. That means that data of everyone has to be recorded too, right?

There's someone I'm looking for. They're supposed to have joined the Dandelions, but I haven't seen them…

I thought perhaps I'd search the data.

Ephemera: I see… That's worrisome...

Oh! Can I help?

Lauriam: No, it's fine. This is a personal matter. I'll figure something out by myself. Thank you.

(He leaves. End flashback.)

Skuld: He's looking for someone…?

Ven: I wonder who…

Brain: It sounded like he didn't want anybody to pry. Let's not turn it into an inquisition. Not until Lauriam comes to us himself.

Skuld: You're right.

Ephemera: Well, all I meant was, it's thanks to Lauriam that I came up with that solution. I wish I could tell him…

(Lauriam walks on the streets of Daybreak Town and finds a girl sitting on the steps outside the warehouse.)

Lauriam: Are you Elrena?

Elrena: Um, yes.

Lauriam: I want to ask you something about my little sister…

Strelitzia.