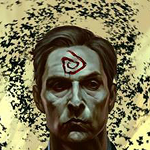 Joined

May 16, 2007
Messages

5,612
Awards

4
Location
Alright guys, got a bit of theorizing today, mostly centered around Xehanort of course, in light of the Jump Festa trailer.

To start, let's focus on the biggest revelation in the trailer, Young Xehanort. How did he get there?

The most striking thing about his presence is his age. But he's not the only one who has undergone an age shift. We have Sora and Riku who also appear younger. Granted, it's not anywhere near as much of a leap for them, but I would wager that the reason why they're younger is the same (or similar) reason why Xehanort is younger. In other words, Xehanort appears young in the Realm of Sleep, but he's really his old self in the real world (as the Re:coded secret ending seems to imply). I'm not really going to speculate on the reason why they can appear younger because, even though Nomura said it's essential to the story, I honestly think it's just an excuse to have them in their younger forms again lol. And I can't think of any reason for why they would need for this to happen.

Anyway, I do think this is the real Xehanort we're dealing with here and not just some dream version. But that naturally begs the question, what is he doing there? Let's think about what a restored Master Xehanort's first moves would be. One possibility is that he wants to reattempt creating the X-Blade. And in order to do that, his best bet would be to find Ven again (as opposed to starting over and trying to find/create two other hearts of pure light/darkness). Now, there's a very real possibility that MX inheritted some or all of the memories/knowledge attained from Xemnas. And we know Xemnas had the right idea about where to look for Ven. I think MX will continue this pursuit using what he knows from Xemnas. He needs to find the Chamber of Waking.

How do you find the Chamber of Waking when you could be right under its nose in Castle Oblivion but never reach it? The Chamber of Repose. Remember, "With the Chamber of Repose comes the Chamber of Waking." The Chamber of Repose is a tool meant to find the Chamber of Waking.

But how? For starters, I think the name of the chamber alone heavily implies that the Chamber of Repose is connected to the Realm of Sleep. So it is a means of accessing the Realm of Sleep. But it has to be more than that (I mean, I think we'll see through Sora and Riku that there are other methods of entering the Realm of Sleep, so that can't be what makes the chamber special). Perhaps the chamber gives one some kind of dominion over sleep. Control of the Dream Eaters. That is why we see (presumably) Young Xehanort summoning a Dream Eater.

[As an aside, I absolutely believe that the hooded figure there is YX. He has the exact same young/slim figure.]

But what could the Dream Eaters possibly do which would allow them to give you access to the Chamber of Waking? Remember, finding them allows you to find the keyholes of sleep, which can be used to free the worlds from their slumber.

So, I think Xehanort is using them to sniff out a particular keyhole of sleep. The Land of Departure's keyhole. Even though Castle Oblivion exists in the real world in place of LoD, I believe LoD itself is one of the worlds which rests in the RoS. Thus, by finding and using its keyhole (where Ven is I would guess), one would wake up the world and revert CO into LoD. This would essentially bypass the need for Aqua, as Xehanort would now have total access to Ven.

Well, not quite. He still needs the most essential ingredient, his heart. And from what we can gather, YX knows Ven's heart is in Sora. He needs Ven's body and Sora for Ven's heart to put the pieces back together (and this is what it seems to be foreshadowing in the BbSv2 trailer when we see Ven disappear from the Chamber of Waking and Sora from Destiny Island). Not quite sure how he'll accomplish this, though. Perhaps he'll do to Sora what he did to Ven, split his heart (ie detach Ven's heart), but then redirect the detached part into Ven's vessel.

Then he would just need the dark half. Vanitas. Now, I know it's been said, but I absolutely agree with the theory that Vanitas' heart resides in Xehanort. The trailer itself hints as much.

"Aren't there hearts confined within you too?"

Of course, YX could be referring to someone other than himself with the "too" but the scene directly after says otherwise. "Hearts other than your own." With Vanitas magically popping up out of nowhere. It really is screaming, "Xehanort has Vanitas' heart."

Alright, we get that. But how did he get Vanitas' heart? Simple. Vanitas was one of the "seeds" (or "roads" in the English translation) that Xehanort was referring to in the BbS secret ending. He has the yellow eyes which indicate a connection to Xehanort.

This part of the theory is taken from the old Horcrux theory. That MX split up fragments of his heart into various vessels to increase the likelihood of his survival. However, when these beings are defeated, it has an interesting consequence. Rather than fading into darkness or (in the case of some Nobodies) reverting to their original state, these hearts go back to Xehanort. Think of it like a magnet. When their hearts are released from these "seeds," the bits of Xehanort's heart within them attract to the primary piece of Xehanort's heart.

So, in other words, I'm saying Xehanort has quite the amalgamation of hearts now. His own, Vanitas', Braig's, Isa's, and potentially still Terra's and Eraqus' (this depends on a few things but that's an entirely different theory). As YX says, it's hearts (plural) other than his own.
How this will play out, and what Xehanort intends to do with these hearts, I'm not sure. One possibility I've thought of in the case of Isa's heart is that he may be using it as leverage against Lea. Perhaps Lea has found out that Isa changed due to the influence of Xehanort, and he wants his friend back. With Isa's heart residing in Xehanort, Xehanort can have Lea do his bidding (notice how he seems to have been tasked with finding Ienzo and Aeleus).

Aaaand, that's it for now. Very incomplete and vague but I just haven't been in the theorizing mood as of late and this is about all I can muster for now.