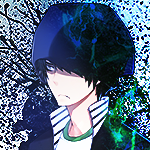 Joined

Jul 21, 2008
Messages

7,126
Age

26
A Retrospective Look at History

​
In the year 2550, Japan sunk into the sea. Countless earthquakes withered the island over time, until it was eventually too much. This was not an unprecedented event; it was in fact predicted to happen in the year 2050. To prepare Japan enlisted the aid of America, and together they began an ambitious plan, they were going to create a new 'Japan.' I won't get into the details, because honestly they aren't very important, what is important is that this new 'Japan' was finished in the year 2545. It was connected to the western edge of the United States, and due to a binding contract officially became a part of America. This story takes place in a town right on the border between New Japan and the west coast, in the year 2570.
The Present
​
Kuroki High, a recently built private high school that has been standing for four years. It is named after the town in which it was built. This high school is special in that it adopts both traditional Japanese and American methods, and is the first of its kind. Students live on campus in two separate buildings, the male and female dorm accordingly. Near school grounds there are various shops which frequently have students as customers. Presently, students are enjoying summer break.
Many of the schools clubs continue meeting even during breaks, there is one club in particular that is of a specific importance, The Cultural Arts club. The name is a front; the club's activities have nothing to do with cultural arts. The members of this club are special, and their activities are without a doubt unknown by the populace. To put it bluntly, members of the club are hunters of the supernatural. Their circumstances differ from one another; however they are all the same in that they have an acute awareness and sensitivity to the unknown. I'll get into more about them in a moment.
Recently there has been a sharp rise in the number of paranormal and otherwise unexplainable events occurring in the town of Kuroki. People are vanishing without a trace, seeing and hearing strange things in the dead of night. The CA club comes in here; however the level of instability is of the likes they've never seen before. Something is obviously going on in the town, and until they find out just 'what' this something is the flood of incidents will only continue to grow more and more out of hand.
The Cultural Arts Club

​
The CA Club is composed of two types of members, Purifiers, and Pacifiers:
Name:
Age: (They should be an age that makes sense for a high school student please)
Appearance:
Personality:
Bio: (optional)
Role: (Are they a Pacifier, or a Purifier? Think about which would fit your character better)
Abilities: (Make sure these fit within their role, if you're not sure if something is allowed or you don't understand don't hesitate to question me.)
Other: (Anything else you'd like to add like/dislikes, themes, ect…)
Rules​
Standard KHI rules apply here of course.
No power playing at least not without permission.
No god modding, AT ALL. Our characters have abilities but they are not power houses.
This isn't a battle RP really, there will be conflicts and danger however the main thing to focus on is character development and resolving the issues presented to the club.
Romance is allowed just be careful with it, I hear kids come here and stuff.
Characters

[TABLE]Name|Age|Role|Role-Player
[/TABLE]​
Last edited: